Have you received a text message that says The Canadian Revenue Agency (C.R.A) sent your climate action incentive payment? Does it say you should click on a link to receive the payment? Don't be deceived! ! It's a scam. Read this article to find out how this scam works, and how to avoid being a victim.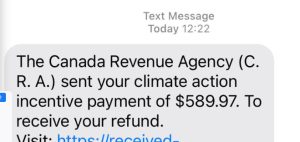 Climate Action Incentive Payment Scam: How Does It Work?
This scam works through text messages from suspicious numbers. The text messages often claim recipients are eligible for the Climate Action Incentive of $589.97. In order to receive the payment, it urges you to click on a link.
But then, this is where the scam comes in.
Once you click on the link, you'll be taken to a malicious website that'd ask for your personal information like your name, email, address, social security number, etc. The scammers will then steal your identity, and then proceed to take money from your account.
Why It's a Scam;
First of all, The Canadian Revenue Agency does not send any text message prior to the payment. They simply pay the incentive directly to the account of those that are eligible.
Secondly, the link contained in the text message is not from the C.R.A. The official website of the Canadian Revenue Agency is Canada.ca.
Thirdly, our malware tool detected that the website(s) used for this scam is malicious, and by so doing collects users data. Received-benefit.com, lookslikecrawebsite.com, etc. are harmful. Meanwhile, The Canadian Revenue Agency has issued a warning to the members of the public. They've shared the following tips on why the text message is a scam and how to detect it;
It contains lots of grammatical errors
The Canadian government uses domain names ending with the extension ".ca" not ".com".
CRA typically do not initiate contact via text messages, emails, or calls for sensitive matters.
How To Avoid Being a Victim To Scams
Emails and text messages are common vehicles for scams. Social media platforms like Facebook can be hacked as well, so use security precautions with them.
In order to keep your personal data safe and secure, follow these basic guidelines:
Kindly ignore any messages, voice mails or emails that seem too good to be true
Search online to see if there are reports or proofs backing a suspicious call or text
Never click on a link from an unknown or unsolicited sender. This includes links received in text messages and emails.
Report the call.
Beware of messages that your account is at risk. These might appear to legitimately come from a company you do business with, but often there are typos in the message.
Never give out your passwords, crypto wallet keys, or other sensitive information. This applies online as well as over the phone.
Author Profile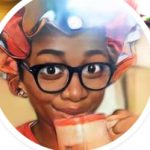 Wendy is a fraud fighter whose contents mainly target online scams. Her investigations have appeared on Itisreviewed,and elsewhere. She spends her free time reading novels, binging on Netflix, and listening to hip-hop.