In case you're thinking of ordering the ChillWell portable AC, we advise you not to do so yet. A lot of things don't add up about the product, the company, and the reviews online.
One of the reasons why this AC is the rave of the internet is because it is been sold for 50% discount. But when you dig beneath all the so called positive reviews online, you'd see that there are no genuine customer reviews.
This was what led us to review this product.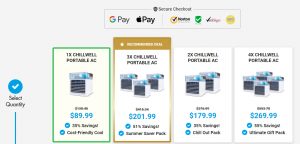 The Truth About ChillWell AC That No One Will Tell You
First of all, ChillWell is not an Air conditioner as you were made to believe. It does not even come close to being an 'Air Cooler'. The advertising and branding of this product is deceptive.
It cannot be an A/C unit if it is self-contained. A/C units are heat pumps — they remove heat from the air and transport the heat to another location, i.e. usually out of the space that you want to cool (think of a refrigerator moving heat from inside the closed space to the outside of it).
Secondly, it's an evaporative cooler. It works with an ice tray which you have to fill with water, place in a refrigerator, before putting it inside the 'ChillWell' This is what it uses to blow cool air.
ChillWell is not an AC but a swamp cooler. It only humidify the air surrounding your feet, and can not work as an air cooler or regular fan.
Is ChillWell Portable AC Worth Your Money?
Apart from the fact that ChillWell is wrongly called an Air Conditioner, below are other reasons why we can't recommend this product.
Overpriced
On Amazon you can get similar 'swamp cooler' for 20$-50$ and save yourself more money and time. Still, mini portable AC don't do much.
Negative History
The ChillWell AC is marketed by Ontel Products, 21 Law Drive, Fairfield, NJ 07004 . A google search showed that the company has some bad reviews online already, dating as far back as 2020.
Why this does not make them totally bad, it still doesn't paint this company in a good light.
What this company does is buy products for cheaper rates in China, then invest in social media advertising, SE0 advertising, copy writing and all the likes, to make the products look real or legit to buyers. This is why when you search for ChillWell AC reviews you'd see tons of reviews from blogs endorsing the product.
But one thing stands out…..the contents are all similar. All hog-wash, make believe reviews.
Shady Money Back Guarantee
The 60 days money back guarantee is fake! Just like Handyheater, HeatBoss, and every other product marketed by Ontel, it's impossible to get a refund!
ChillWell Complaints
ChillWell AC has a poor 2.5 ratings from costumers. In fact, majority of users have used the following words 'cheap cheezy fan' 'Piece of garbage', etc. to describe it. See what a user has to say below –
These coolers are worthless, do not work as advertised – DO NOT BUY THESE COOLERS!! I fell for it and bought two coolers. Simply put, their websites are full of lies and misinformation – they do NOT cool a room within seconds. They are NOT easy to use; you will need to add water & ice every 15 or 20 minutes; all of the website reviews are FALSE! This is FRAUD.

James
Chillwellshop.com Review: Is It Legit?
We are skeptical about Chillwell Portable AC as there are a lot of red flags that shouldn't be ignored. Have you shopped from chillwellshop.com or chillwellac.com? What were your experiences? Please drop a comment!
Do Mini Portable Air Conditioners Really Work?
Yes they do, but only for a short while.
One of the ways that an air conditioner helps to cool you, is by removing the humidity in the air, allowing your sweat to evaporate. This unit, while it does decrease the air temp by a few degrees, it also increases the humidity in the air, and that will make you feel worse in the long run.
Mini Portable Air Conditioners are swamp coolers, they're only ideal for hot summers. I live in Los Angeles, where the summer air tends to be hot and dry in the daytime, and warm and dry at night. That little cooler on the table next to the bed keep that immediate area nicely cooled and works fine. IT DOES NOT COOL THE WHOLE ROOM!
watch video review here