Capitalfunds.co is self-proclaimed, multiple award winning broker that in fact, is nothing close to what it claims to be. It would do you good to read this review before making any investment with Capital Funds brokers.
Experienced trader or not, people go into forex trading with the intention of making real profit. To do this, you have to entrust your forex trading to the right forex brokers. Our job here is to review various websites that claim to be forex brokers, then help you tell which is real and which is not. The following review explains all you need to know about Capital Funds Brokers.
About CapitalFunds Brokers
Capitalfunds.co as a brokerage company is quite stingy with their company details. There is not as much as an address or a phone number on the website. They do claim, however, to have working branches is Zurich, London, Moscow and Singapore. And even at that, this is not something any legit broker would do.
They claim to have been founded in 2009, and to have since won about 8 awards, most of which we were able to confirm do not exist.


CapitalFunds brokers trade in stocks, indices and CFDs.
Why You Should Be Wary of vlom.com
At first glance, Vlom brokers looks a complete harmless website. Yet, after a deep look at vlom.com, we feel you might want to consider the following before trading with them.
CapitalFunds Brokers Withdrawal and Deposit Policy
CapitalFunds brokers, like any other shady broker, has lots of questionable deposit and withdrawal terms. We'll start with the simplest one; capitalfunds.co, has about 9 plans, the cheapest being the BASIC plan. It's mininmum deposit is 500 EUR.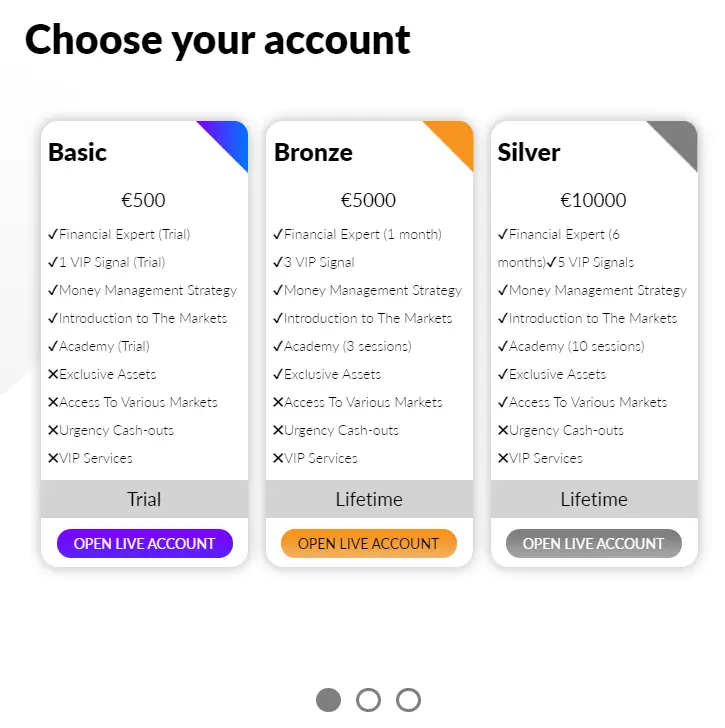 This price is really high compared to the $100 used by proper, legit brokers.
The payment methods listed are Skrill, NeTeller, and various debit/credit cards. However, most of the shady terms come in the withdrawal policy section. For example, there is the problem of withdrawal processing taking up to 5 days when legit brokers are known to do it in 24 hours or less.
Also, a section of their T&C states that wire transfer are liable to be subjected to a $50 withdrawal fee. Finally, accounts that have been dormant for 30 days are charged 10% of their balance per month.
These terms really put investors under pressure and are commonly found among shady brokers. We call this a red flag.
Capitalfunds.co Trading Platform
The trading platform provided by capitalfunds.co is not specified on their homepage, which is a bit odd. Upon registration however, we had to choose between the known MetaTrader 4, and two others known as MetaTrader WebTrader and Status WebTrader. Needless to say, we chose MT4.
If you ever tried this, you'd discover that the MT4 account is never created successfully. There is also no demo account for testing their environment, a common thing among illicit brokers. Considering this and the fact that the presence of the MT4 trader is not flaunted on the home page, we have cause to doubt them. We call red flag on this one.
CapitalFunds Brokers Licensing and Regulation
As earlier stated, CapitalFunds brokers, do not reveal anything about their location or a guiding regulatory body. Based on this fact, it is clear to us that they are NOT REGULATED by any agency at all. This makes them illegal brokers, and you would be much safer if you didn't associate with them.
CapitalFunds Brokers Review Conclusion: Is capitalfunds.co Legit?
No. Capitalfunds.co is no more than a scam broker. They are not licensed to operate as a brokerage company, hence are to be considered illegal. We cannot recommend them to you, and we advise you deal with a transparent broker who's licensed by a reputable agency.
Our Recommendation For You
You can make money online by trading with reputable, reliable and trustworthy brokers. We've been trading with the Fortrade broker below for sometime now and we have no regrets!
FORTRADE- One of the Top rated brokers and a good choice for new traders. This broker is Licensed in UK(FCA), Australia(ASIC) and Belarus(NBRB). Guess what? you can trade from any part of the world as it accepts Traders Worldwide. Interested in trading with one of the best Forex brokers? Head Over to Fortrade and start trading!