Thinking of ordering the BlendGood free blender? Would you really receive this portable blender for free? or is it a disguised scam? Read this review to find out!
With online scams springing up every day, we have taken the responsibility of reviewing products, stores, websites e.t.c in order to save you from making wrong decisions.
Our Review of this product serves as an eyeopener. We hope it meets you well, and on time.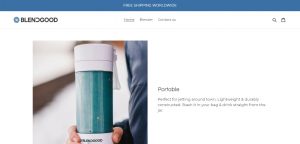 Blendgood.com Free Portable Blender Scam
The website 'blendgood.com' is offering a portable blender called 'BlendGood' for $0, however from my findings it is not legit. Why do I say so?
Lets look at the following drawbacks –
Absence of Tangible Information
If there's anything you should notice, it is the lack of concrete information on the website. For a website offering a new product for opinion (testing) there's nothing about the Company manufacturing this blender, its location, or even a live chat.
Another thing worth noting is the lack of professionalism. Unlike the known portable blender website BlendJet, this one has a bland website that looks like it was done in a hurry. The Privacy Policy, Terms and Conditions, Shipping Info pages have been copied from other websites.
Also, for a product aiming to penetrate the market, it is quite suspicious that there's no official social media pages. Not even a Facebook page! This is beginning to look like a sham.
Does it get better or worst? lets find out!
No Customer Support
Website with a new product that has no telephone number with which Wholesalers can contact them? Doesn't it spell SCAM already?
Come to think of it, when you send a mail to the email address '[email protected]' it BOUNCES BACK! you heard me right! It doesn't deliver. Now this is one corny sh*t you should ponder on.
Who provides fake contact details if not fraudulent websites/businesses?
Okay, you think you stand to lose nothing. You don't provide payment details or anything, so you can't be scammed right? I'm sorry! you've been lied to.
These guys are going to rope you into a scam you never pictured. How? Read On…..
BlendGood Free Blender Scam: How It Works
When you want to checkout for your free order, you are told to verify if you're a human before submitting order. This is when the scam comes in, when you click on the three options provided, you'll be taken to another website 'wap.tech-trend.net' otherwise known as CepZone. (A Turkish website)
What happens here?
You'll be made to provide your phone number. When you do so, this website subscribes you to a Vodafone plan. In the future you'll receive direct debits on your phone. You'll never receive your portable blender.
This CepZone has automatically subscribed you to a paid membership of one App or the other, and you'll receive subsequent debits monthly. Still in doubt? see reviews here
What should you do if you've already provided your phone number? To cancel the membership, you need to write IPTAL cepzone and send it to 3544. All SMS sent during this process are free.
Conclusion:
BlendGood free blender is a scam. Customers who order this portable blender will never receive it. Rather they'll be charged monthly for a subscription that blendgood.com added them to.
Looking for affordable portable blenders? See the Best OPTIONS below