Is bigliquidity.com a legit broker? Is it truly safe for you to trade with BigLiquidity? In order for you not to make avoidable mistakes, you're advised to read this review before trading with bigliquidity.com.
With more online businesses popping up everyday, opportunities present themselves for online scammers to choose victims. However, we have made it our duty to review websites, investments, etc. to help you detect them from miles away. This review covers all you need to know about bigliquidity brokers.
What to Know About BigLiquidity Brokers
Bigliquidity.com holds itself high as regards user experience on it's site. It achieves maximum professionalism with minimum colours. A simple, straightforward and professional look. They look trustworthy, accompanied with claims of reliability and performance.
However, a couple of findings done makes us think otherwise. We think BigLiquidity brokers might just have a skeleton or two in their cupboard.
Reasons to Beware of BigLiquidity Brokers
This broker have done well in covering their tracks but for a few subtle inconsistencies which we found while surveying their website. Here are the reasons to be wary of this broker.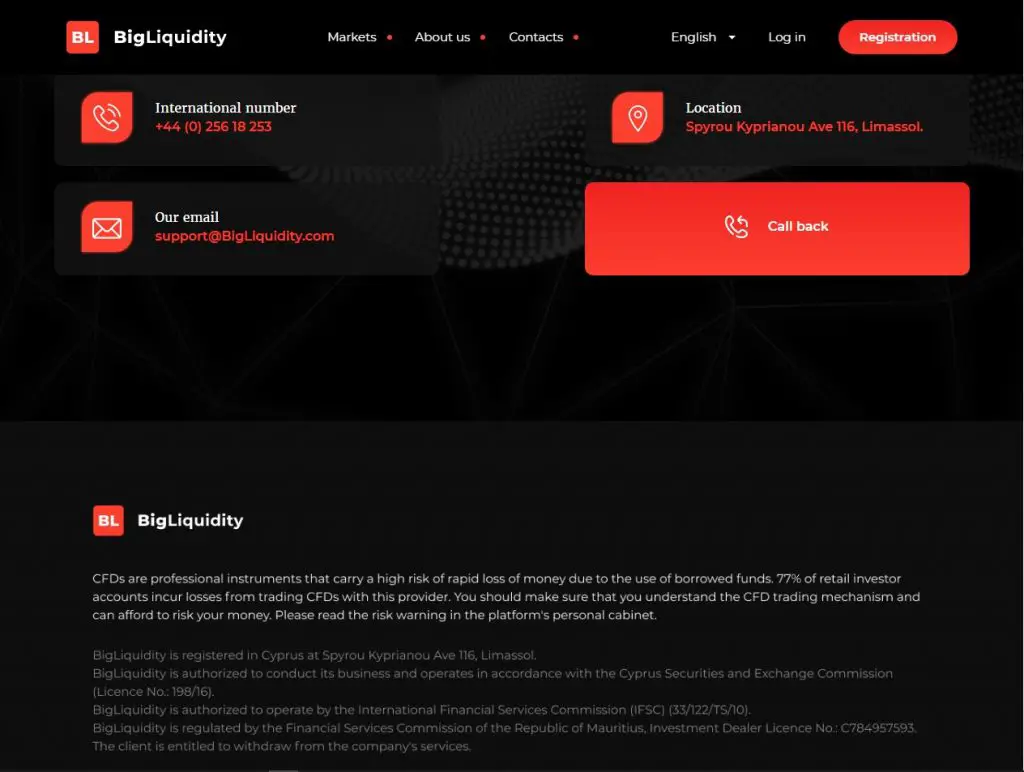 Conflicting Contact Info
BigLiquidity.com brokers claim to be registered by Cyprus Securities and Exchange Commission(CySEC). A feat which would increase respect for them. However, their contact information, on the same page where it claimed an address in the Republic of Cyprus, attached a contact phone number starting with the English country code, +44.
Like that wasn't enough proof, just a few lines below their CySEC declaration, another line claimed they were regulated by the Financial Services Commision of the republic of Mauritius.
That's three different addresses already. We're not sure what you think, but that's a pretty bit red flag for us..
Withdrawal & Deposit
We discover that this site requests a minimum deposit of $5000. But upon creating an account, and entering the trading environment, the pop-up says you will need a minimum of $150. This inconsistency is worth looking into.
Besides that, it is observed that the only accepted way to make deposits is via Bitcoin. An untraceable transaction. Also, the terms and conditions allow for an outrageous 15 days to sort out unspecified "legalities" before you're paid back, should you decide to quit.
False License Declaration
BigLiquidity brokers claims to be registered by The Republic of Cyprus and regulated by the Republic of Mauritius. Hence, we decided to give them the benefit of doubt by checking the registries of both CySEC and MFSC.
You shouldn't be shocked to discover that bigliquidity.com brokers does not exist in either of the countries. This simply means they are not a licensed broker. Hence another red flag.
BigLiquidity.com Review: Conclusion
Judging by the red flags listed above, it's safe to say that we believe bigliquidity.com is a scam. We cannot recommend an unlicensed, broker to our readers. Especially not one withe this many other inconsistencies.
We recommend you trade with a licensed broker with explicitly stated terms and conditions of trade.
Our Recommendation For You
You can make money online by trading with reputable, reliable and trustworthy brokers. We've been trading with the Fortrade broker below for sometime now and we have no regrets!
FORTRADE- One of the Top rated brokers and a good choice for new traders. This broker is Licensed in UK(FCA), Australia(ASIC) and Belarus(NBRB). Guess what? you can trade from any part of the world as it accepts Traders Worldwide. Interested in trading with one of the best Forex brokers? Head Over to Fortrade and start trading!