Scammers are creating Fake Argos Pallet page on Facebook, pretending to distribute unclaimed Parcels Accumulation for just 1.78. Beware, it is a scam. This detailed article exposes how this scam works, and how to avoid being scammed.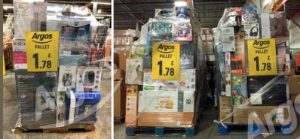 What is the Argos Pallets 1.78 Scam all about?
It's a post on Facebook that claims Argos is distributing accumulated unclaimed parcels for just £1.78. However, it's a scam. You wouldn't get an iPhone, any kitchen appliance such as a hoover, and other items after filling the form.
The pages offering the Argos pallets are not the official Argos social media pages. The link attached to the post is not the official Argos website.
When you visit the website you'll be made to provide your credit card information for the £1.78 shipment fee. If you do so, these scammers will delete every dime you have in your bank account. This is because they're not the legit Argos company.
Meanwhile, to verify the authenticity of a promotion or get information regarding a Argos giveaway, please go to their legitimate Facebook page below:
Why It's a Scam
The link attached to the message isn't that of the official Argos website which is argos.co.uk
It uses tinyurl.5ru, a known problematic link shortener which often directs to malicious websites
Meanwhile, if you've already clicked on the link you should Install an anti-phishing software. This will scan your device and protect it from any virus attack. You should also report to your bank if you've already provided your credit card information.
What Should You Do If You Receive Phishing Texts Like This
No matter how convincing it sounds, you shouldn't visit the link or links attached to such messages/mails or send your personal information.
The first thing you should do is ignore such messages, and look for reviews online about it.
See similar Giveaway scams – Amazon Package Loyalty Reward, UKPepsi Lottery Scam, Eyeverify, Bath$Body Coupon, Amazon Airpods Raffle Scam, and many more.