Are you looking for pads to insert in your shoes to avoid odor? Do you want to buy Zorpads? Are you wondering is it's worth your money or another sham? You are on the right place. Go through this Honest Review to find out if it is genuine or a sham.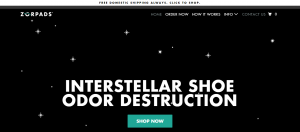 What Is Zorpads All About?
Zorpads is a shoe odor destruction pads that is made from NASA-Tested technology and Activated Carbon Filters to fix your Stinky, Smelly Shoes & Feet. It sticks to the inside of your shoe with a proprietary adhesive blend that's tough in musty environments and simple to remove. Fit in any shoe without cutting or trimming.
Interestingly, zorpads odor eliminating shoe inserts do not make a mess like sprays or powders
Do Zorpads Really Eliminate Odor?
Not as advertised. There are both positive and negative reviews online about the product. It was rated 3.7 out of 5 on Amazon. This simply means that Zordas odor eliminating shoe inserts do not really work as the website claims.
See some customers reviews –
My son has the worst smelling shoes I tried washing them using powders and using sprays. Powders cake up sprays are so strong I would spray them outside. We live in Florida where sweat is a problem and combine that with a Teenager it's a great storm. So I bought these and gave it a try combined with a great sock and a new pair of shoes. My nose thanks you and the entire class room! My son wears a size 12 and rides his bike to school. While trying to figure out a good solution I used them all up. Have a great thin sock and the Zorpads are wonderful. I discovered this product I guess about 6 months ago. I happened to catch the very last of a shark tank episode and couldn't believe it I ordered immediately. Tonight I caught the episode and listened to the remarks. My son is tough on his shoes and using the pad in the shoes and the socks is the perfect answer for us. My nose thanks you!

Jamie Scacca
My son has some of the worst smelling feet, especially after playing sports. His tennis shoes also smell pretty terrible, along with his cleats. After only two days in his tennis shoes, the pads starting coming up. I placed them exactly where instructed on the package. I washed the shoes prior to placing the pads, so they smelled fresh prior to starting this process. I was so excited to try these because I have really exhausted all efforts of finding something that works for his feet. It is embarrassing for a 13 year old boy to be the one in the locker room with stinky feet. I hate how falsely advertised these are and I hope this review helps people from wasting their money!

Lynette Allen
Claimed Features:
It is Moist
Wicking Linear
Odor absorbing
Has Carbon Layer
Adhesive Layer
Pros:
Naza-Tested Tech
Destroys odor
Sticks in place
last up to sixty wears.
Cons:
Has some negative reviews online
Falsely advertised. A user complained that the pad comes out.
Conclusion:
From all indications, zorpads claims to work wonders when it comes to odor destruction. However, the inserts are not as good as advertised as there are both positive and negative reviews left online by users.
Check here to see other products we reviewed earlier.