Ever since 'When we were young festival' was announced, there've been lots of debates online about the plausibility of such festival.
60+ bands, across 3 stages, playing for 13 hours? that mean each band gets a 35-minute set without breaks? Also, it seems troublesome that the festival is organized by the same company as Astroworld, with tickets starting at $200 with no refunds.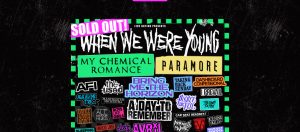 Could this be real or would it be another  Fyre Fest situation? Let's find out from our source!
Is The Ticket Really Non-refundable?
This has been the major question on the lips of everyone. What does nonrefundable really mean in this case? Fear not, it doesn't mean "you don't get your money back no matter what. When it says non-refundable, that doesn't apply if it's the promoter that cancels. If it's cancelled, you'll get your money back.
How many days is the Festival?
Formerly it was a one day event, not until few days ago when the organizers announced a second day. That means the festival would take place on October 22 and October 23 2022. Sadly, tickets for both days are sold out on the website.
Are The Bands Aware they'd be Performing at the Festival?
With the amount of bands lined up to perform at the when we were young festival, lots of people have showed skepticism online. It all seems like a repeat of Fyre Festival, with most bands not knowing they'd be performing till the last day.
However, this is not the case with this festival. Some of the bands have shared details about the festival on social media. Also, it is going to be 3 rotating stages. The lineup is a dream but people are going to miss half the artists because of the multi stage thing. As a result of this, people are advocating for it to be a three day festival, not a three stage thing. You can sign the petition here.
Is When We Were Young Scam or Legit Festival?
It looks legit, but poorly planned. No idea how 65 bands on 3 stages in 12 hours is supposed to work out. Even the second day has the same line up as the first day, so it's not even a continuation, but a repeat. I've been to my share of festivals before but nothing where there were so many artists, so few stages, and so little time all at once.
Meanwhile, the people making Fyre Fest comparisons are forgetting just how bad Fyre really was. Worst case scenario here you waste a couple hundred bucks on festival tickets but you're still in one of the top vacation spots in America with hotels/casinos literally everywhere and a major airport if you really need to leave. Those people were stuck on an island with no way off and nowhere else to go.
Where to Buy or Sell When We Were Young Ticket?
Though sold out at the official website, When We Were Young Festival tickets are available on stubhub.com for $429 & $419. You can either sell yours or buy from sellers. Stubhub is a legit ticket selling platform with 22 years of existence.
Conclusion
Your concerns and fears about the festival is valid. However, from our end it looks like a legit festival. Sadly, there's still the possibility of it being a disastrous event due to the crowd, and of course COVID.
What do you think about the festival? Please leave your comments in the comment section. Or you can leave us your thoughts privately here.