The Wavepill pro is a hair curling iron that allegedly takes only 10 minutes of curling to give you a new, charming & natural hair style. They claim the adorable curls and waves will last 1 to 3 days.
With online scams springing up every day, we have taken the responsibility of reviewing products, stores, websites e.t.c in order to save you from making wrong decisions.
Our Review of this product serves as an eyeopener. We hope it meets you well, and on time.
How To Use Wavepill Pro Curling Iron
From what we gathered on the official website of Wavepill, the wavepill Pro is easy to do. Below are steps to take when using the curling iron.
The blue mode is the massage mode that relaxes your face muscles.The red mode is the massage and heating mode allows you to reduce wrinkles and dark circles.
Put your strand of hair between the plates, make a half turn with your wrist. You're done.
You can now slide down the length of your hair!
The first time, you could take up to 20 min to get curly hair because you'll discover and learn by doing.
After 2-3 times, once you get used to it, it usually takes 10 minutes.
However, there seem to be some inconsistencies about the company. Below, are issues we have with Wavepill pro.
Customer Complaints
During our search online, we came across a post made by someone on Facebook. She was asking those who had bought the hair curling iron about the product, and they told her they were not totally pleased with their order.
Below is a snapshot of the post and comments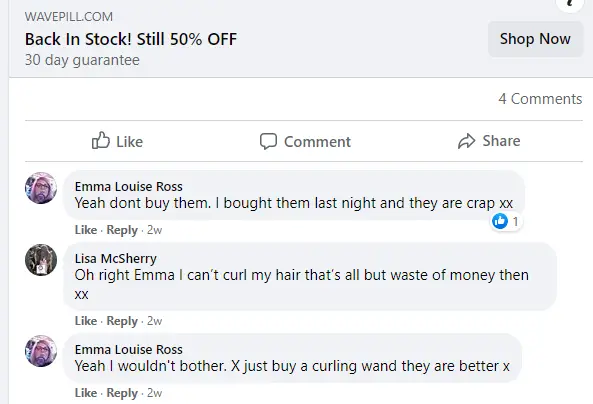 Unverifiable Customer Reviews
On Wavepill there are 4.9 customer ratings for the product, and 174 customer reviews. But when you click on the product, it shows absolutely no reviews. You can't check the reviews to know the experience of those who bought the product.
See Similar Products With Real Customer Reviews
We advise you to buy from trusted sellers on Amazon, as you can always get your money back if you're not satisfied with your order.