Is topgoldfx.com a legit broker? Are your investments safe when you trade with TopGold FX? Before you make any move to trade or invest with this broker, take time to read this review.
With more online businesses popping up everyday, more opportunities present themselves for online scammers. Luckily, we have made it our duty to review websites, investments, etc. to open your eyes to them. This review covers all you need to know about topgoldfx broker.
What to Know About TopGoldFX Brokers
Topgoldfx.com flaunts itself as a group of trading experts who generate profits by buying and selling currencies, stocks, options and commodities on the foreign exchange market. According to their website, they are owned by a company named TopGold FX Limited.
However, we did a few background checks on the website and noticed more than just a few inconsistencies. We think TopGoldFX brokers might not be all they claim to be.
Reasons You Shouldn't Trust TopGoldFX Brokers
TopGoldFX brokers have done well in covering their tracks but for a few subtle inconsistencies which we found while surveying their website. Here are the reasons to be wary of topgoldfx.com.
Conflicting Adresses


The first photo above, is a footer from topgoldfx.com. According to it, the company is located in York Way, Kings Cross. This address can be located in the London, England.
The second photo, however, is the address of the company, cited under the User Agreements section of the website. Here, they claim to be located at Roma, Italy.
Finally, a license and a certificate on the website show "Virgin Islands" and "Washington DC". With four different addresses on the same broker website, we believe we can confidently call the legitimacy of topgoldfx into question.
Questionable Licenses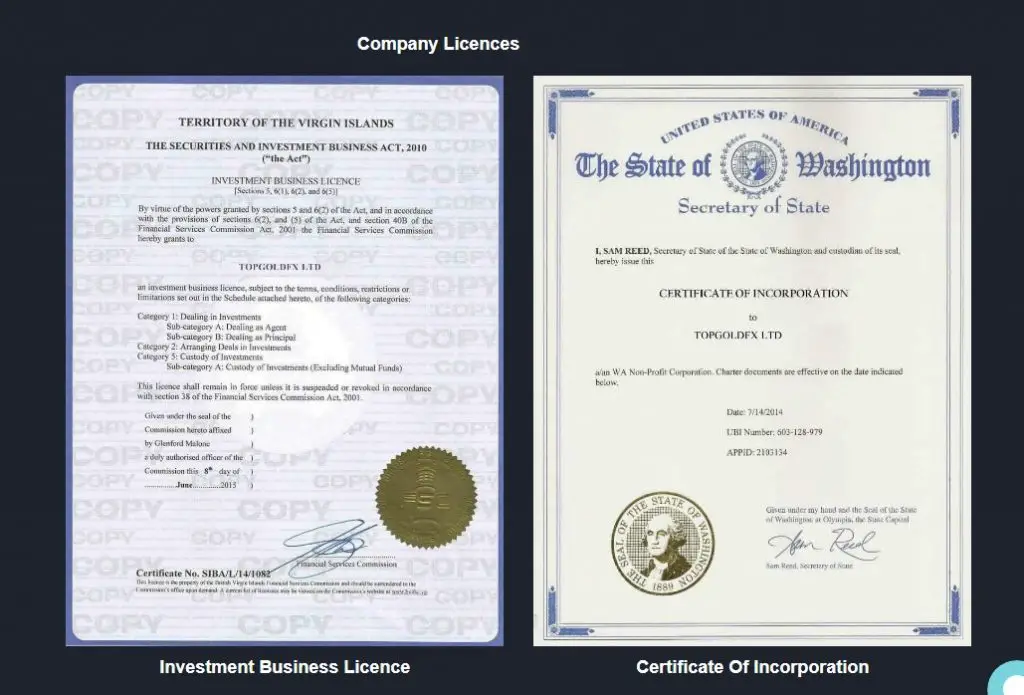 Another thing worthy of note regarding TopGoldFX brokers licenses is the that they're registered on Virgin Islands. If this is their true location, it still calls the licenses to question because that location is tagged "Offshore". This means that the risk of getting scammed there is higher.
As Virgin Islands is located in the United States, we took the liberty of looking through the Commodity Futures Trading Commission (CFTC) register . You shouldn't be surprised to learn that we found no such name as TopGoldFX. This means this company does not exist.
Is TopGoldFX Brokers Legit?
From our findings above, we have enough reason to think otherwise. We cannot recommend any broker to our readers unless they show reasonable level of transparency. Even more important, we will not recommend until we verify that they're licensed.
Should they meet these requirements, we would waste no time to recommend. Since TopGoldFX brokers lack both of these, we do not recommend you trade with them, for the safety of your investment.
Our Recommendation For You
You can make money online by trading with reputable, reliable and trustworthy brokers. We've been trading with the Fortrade broker below for sometime now and we have no regrets!
FORTRADE- One of the Top rated brokers and a good choice for new traders. This broker is Licensed in UK(FCA), Australia(ASIC) and Belarus(NBRB). Guess what? you can trade from any part of the world as it accepts Traders Worldwide. Interested in trading with one of the best Forex brokers? Head Over to Fortrade and start trading!
Author Profile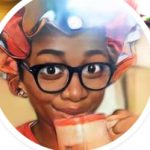 Wendy is a fraud fighter whose contents mainly target online scams. Her investigations have appeared on Itisreviewed,and elsewhere. She spends her free time reading novels, binging on Netflix, and listening to hip-hop.