Did you receive a $993.89 or $996.89 invoice from Top Tier Chemicals for Multi Purpose Cleaner and Degreaser? Were you really charged for something you never ordered or is Top Tier Chemicals a scam? Read this review to find out what our scam analyst has to say.
With online scams springing, we've taken the responsibility of reviewing products, stores, texts, etc. in order to save you from making the wrong decision.
We hope this review meets you well, and on time.
About Top Tier Chemicals
Top Tier Chemicals located at toptierchemicals.com is an e-commerce store that claims to sell different kinds of chemical products for cleaning. However, lots of things don't add up about the business.
Firstly, its impossible to access the website's product catalog. You've to send a mail to [email protected] to receive their catalog and pricing. This is unlike every other online business. Secondly, the business does not have an About Us page. Thirdly, the website was registered on June 2021, the registration details showed the owner(s) of the business have hidden all its information from the public.
However, when we searched online, we were able to locate the business listing on BBB. The company address is 75 S Clinton Ave STE 510 Rochester, NY 14604 which is a multi-story commercial building. The owner Hudson Advisors L.P., specializes in global asset management solutions not Chemicals. This shows Top Tier Chemicals is using a fake business address.
Complaints & Reviews
Top Tier Chemicals have a 'F' rating on BBB. We all know what an F rating signifies. Lots of people are not satisfied with the company. Meanwhile, the business is not BBB accredited.
On the page lots of people have left reviews and complaints stating that they received a fake invoice from Top Tier Chemicals. The amounts charged is either $991.69,  $992.25 ,$993.89,  $996.89 or $987.14, all for Multi Purpose Cleaner and Degreaser they never ordered.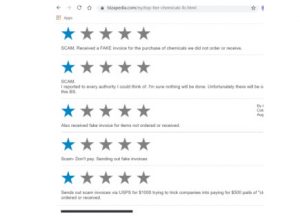 So, what do you do if you've received the invoice email? Kindly disregard as no action is needed from you.
See similar invoice scam here. Meanwhile share this article with your friends and family to keep them abreast of the situation!