so-fx.com is suppsoed to be an online forex training centre. But they hide behind that fact to hide their illegal forex signals business. We urge you to read this review before making any form of investment with So-fx signals.
Everyone who goes into forex does so with the intention of making real profits. Sometimes, making the right trades at the right times can be difficult, which is why you might need to rely on automated signals. Now, it is our job here is to review various websites that all claim to be forex signak providers, then help you tell which is real or not. The following review will tell you all you need to know about So-fx forex signals.
About So FX Signal Provider
So-fx is a forex signal providing company that studies market conditions and supplies traders with what is known as "Potential winning trade signals". These services are not uncommon in the forex market. They are created to help traders increase their chances of making profits by trading smartly instead of randomly.
This company is an offshoot of So-fx Ltd., an educational company located in Southampton, England.
Why You Should Be Wary of so-fx.com
Even from the start, you could tell there was something not right about SO FX website. After a deep search into so-fx.com, here are some of those things;
SO FX Withdrawal and Deposit Information
There are no wthdrawal and deposit policies outlined on so-fx.com. They don't talk about even the slightest of fees, except for their courses. The basic course costs 399GBP while the advanced is 995GBP.
The website only supports card payment via custom a custom payment. That's all the info there is.
SO FX Trading Platform
SO FX forex signals makes use of Instagram, Facebook and Telegram to provide winning signals for their customers. So-fx.com has NO trading platform. They create channels and group chats and use it to send messages which they tag "signals".
The so-fx.com pages are very scanty for any useful information whatsoever. Usually we complain of forex signal providers who do not give us verified trading results instead of merely screenshots. So-fx.com did not even provide any of those. The only thing remotely resembling forex trade on the website is a video of a man asking us to enroll for their online courses.
SO FX Licensing and Regulation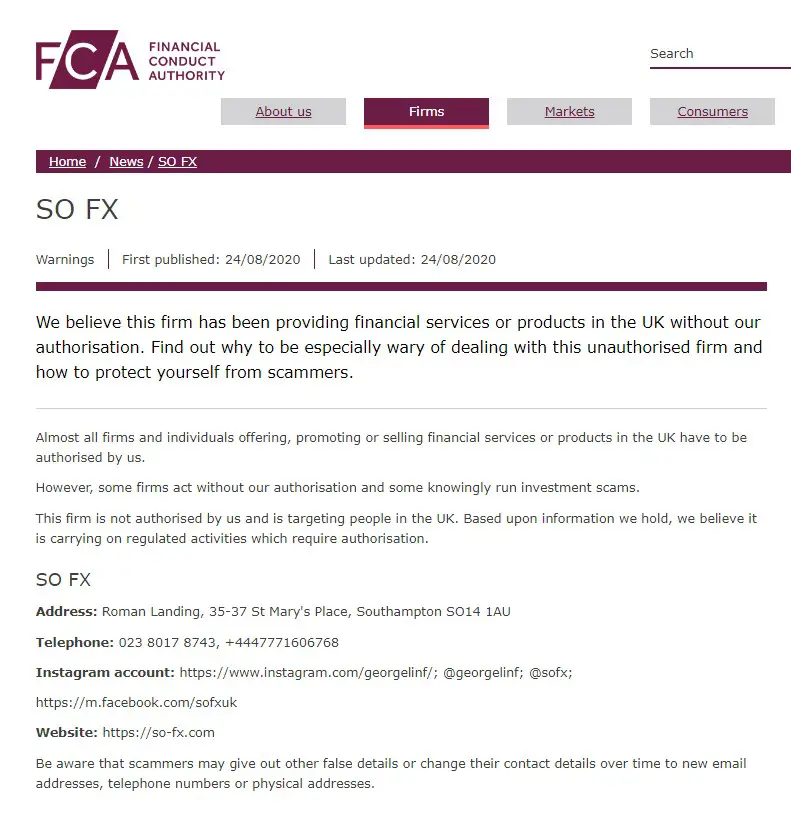 SO FX signals have been noticed by the FCA, UK. And they have been duly issued a warning to desist from unauthorised acts. The FCA is the United Kingdom's Financial regulatory body. They issue warnings to establishments that offer financial services without due registration and licensing.
The fact that so-fx.com has been issued a warning by the FCA, means that they are an illegal signal provider. This means that you would be risking your funds big time by entrusting it to them in any way.
SO FX Review Conclusion: Is so-fx.com Legit?
No. SO FX is not licensed to operate as a financial service company and the FCA confirms with this on the warning shown in the photo above. On top of that, they do not reveal nearly half of what they should on the website.
Because of this, we cannot recommend so-fx to you. We advise you deal with a transparent forex signal provider, especially one who's licensed by a reputable agency and actually knows what they're doing.
EXPERT Recommendation: Use The Best Forex EA/Robots In The Market Below
Visit a legit forex robot