Is shoeout.ru off-white real? Would you get the exact sneakers or a poor replica? Is Shoeout.ru scam? This review provides answer to your questions.
Online shopping has made it easier for a lot of us who don't fancy trudging the streets, especially during this post Coronavirus period. However, with the rise in online shopping, online scams have risen.
This is why extra measures have been taken to provide the accurate details, and the pros & cons of this online shoe store called Shoeout.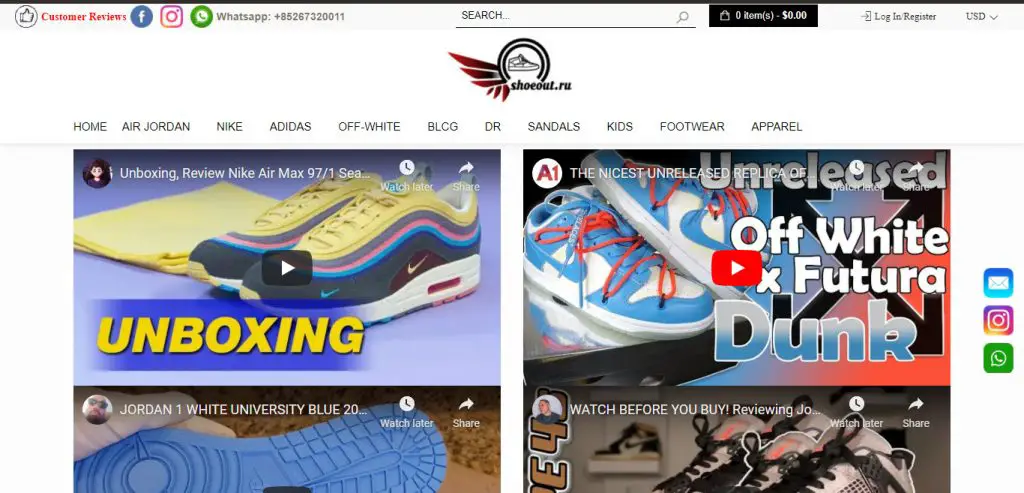 What is shoeout.ru Website?
It is an online store that sells different kinds of sneakers like Off-white, Air Jordans, Yeezy Boost, Nike, Adidas and the likes for affordable prices. The store allegedly delivers to almost all countries worldwide by DHL,EMS. The estimated delivery time is 5-10DAYS.
Sounds like a pretty good offer right?
First of all, lets look at the website specifications.
Website Description
Name: Shoeout
Type: Online Store
Link: https:// shoeout.ru/
Email: [email protected] and [email protected]
Date of Registration: 2019
The website is two years old
Company and Owner Information: Bernice Gerge
Company Location: N/A
Contact Number:   +85267320011
OBSERVATION: shoeout.ru has been operating for a long time, almost two years now. This is a positive sign, especially as they've managed to keep a near perfect record online.
Does it get better or worst? Keep reading!
Pros of Shoeout.ru
Accepts PayPal
Has a user friendly interface. No annoying pop-up notifications
Has Customer reviews available on its page
Provides a WhatsApp number
Been operating for more than a year.
Drawbacks:
Website Lacks seal trusts from authorized organizations.
The store has been sued by Adidas for copyright infringement.
Instagram page not open for public
Are Shoeout.ru Sneakers Original?
No, they are not. Though the images on the website are that of original sneakers, the store makes replica of these sneakers which they sell to customers at fair price. When you order from this store you'll receive a replica, which in most cases are almost like the real deal.
Where is Shoeout Warehouse Located?
This shoe store has failed to provide its physical location. However, during my investigation I discovered that the owner of this store 'Bernice Ko' lives in Jersey City, New Jersey. This means the sneakers are either manufactured in New Jersey or in an offshore warehouse.
What are the Customer Complaints?
Few customers complained of receiving replicas which were a far outcry from the real deal. According to the reviews, the reps are not top quality. But then what do you expect when you're buying a sneaker worth $500 for $150?
Is Shoeout.ru Legit?
Shoeout.ru is not a legitimate online store. It has been sued by Adidas for federal trademark counterfeiting and infringement, false designation of origin, cybersquatting, common law unfair competition, and common law trademark infringement pursuant.
What this simply means is that this store is acting illegally, and as such they might not fulfill their end of the bargain to you the buyer. When you order from this store, you might receive a perfect replica or a knock off imitation that screams 'FAKE!'
Conclusion:
Shoeout.ru is not a reliable online store to shop from. It has a poor trust score, and as such not recommended.
At the end of the day, just like Sneakersales and a host of other replica shoe store, you might receive a totally bad replica.
You should consider buying the real deal from these Amazon sellers below. The delivery is swift, and response is timely.
Have you been scammed?- Do This
Shopping from this store exposes customers to the risk of hacked credit card and overcharged fees. Also, customers would either receive an inferior item, a different cheaper item, or nothing at all.
Therefore, it is advised to file complaints to your bank and request for a new credit (debit) card. On the other hand, if you used Paypal as a method of payment, you should send a link of this review to PayPal, highlighting the Payment Scam.
Yes, it is true that online shopping has made life easier, however when ordering things online check out the following-
How old is the website? Does it provide return address? Are there customer reviews online? Do the social media icons work?
Always remember you can get the items from trusted sellers on Amazon, like the ones provided above. One of the advantages of shopping from amazon is the return policy. If you are not happy with your order, you can always return your items and get your money back.