Are you looking for organic and green drinks for overall wellbeing? Are you considering buying Rheal Superfoods immunity-boosting beverages? Don't do that yet. Go through this Honest Review to find out if it is genuine or a sham.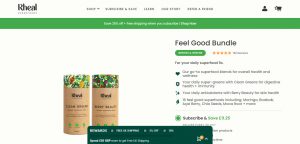 Rheal Superfoods: What is It?
Rheal Superfoods is an online brand selling different health drinks and beverages for health-conscious people. It is a store with many superfoods, drinks, and beverages under its brand name. 
The store sells different drinks and beverages, and you can shop by benefits and types. All products are categorized according to their type and health benefits. For example, consumers will find immunity-boosting beverages, energy drinks, focus-enhancing drinks, gut improvement beverages, and more. You may also buy bundle drinks for overall well-being. 
Does Rheal Superfoods Beverages Boost Immunity?
Rheal superfoods Beverages might not work as advertised, as there are some negative reviews online about it. It was rated 3.3 on Trustpilot. Majority of customers were totally disappointed.
Furthermore, consumer claims that the company is using branding from Your Super.
See what customers have to say-
It may still do me good but it tastes absolutely awful honestly. I thought it would taste nice as dragons den people drank it and didn't complain. Annoyed as I bought two. Though it shan't go to waste. Though that's how it tastes

LD E. Hax
The company stole their entire branding from Your Super – photos of the couple, product containers, website are almost identical. Your Super were the OG. Just create your own brand, don't steal other people's ideas. Even on Your Super's Trust Pilot someone says that they messaged the company to alert them about this (previously called Super U lol, you couldn't make this up)

Monika
Pros
Health drinks and beverages
Shop by type and health benefits
15% discount on an email newsletter subscription
Subscribe for products to get a 25% discount with free shipping
Immunity, focus, gut health-boosting drinks 
Cons
Owner detail, phone number, and address are missing
Crucial details on the website are not available
As per consumer claims, the company is using branding from Your Super
Conclusion:
Rheal superfoods claims to be selling different health drinks and beverages for health-conscious people, but most customers have left some reviews online expressing disappointment.
Have you heard of BeYouth Pro Collagen? We reviewed it.