Do you want to buy Trimsher professional clipper? Are you looking for real customer reviews before you make a purchase? Read this review to find out everything you need to know about Trimsher.
Our Review serves as an eyeopener. We hope it meets you well, and on time.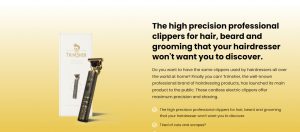 Trimsher: What is it?
It is a high precision professional clipper which works on any type of hair, be it beard or body hair. According to the website, this clipper is easy to use and with long battery life so you don't have to charge it every time you use it. It is also quite portable, as you can easily carry it around without it being noticed.
Sounds interesting right? Could it be the best quality professional clipper ? Lets find out!
Features
5 watts battery capacity
 3Hrs charge time
110V to 240V power for charging
57 cm cord length
What we Like about Trimsher Trimmer
 It's portable
Trimsher is rechargeable
It comes with heads, guard, and cleaning accessories.  
What we Don't Like
The company behind this product is 'Ecomm Movadgency S.L'. Sadly, it has a bad reputation online. On its Trustpilot page, it has been rated 1.9 by more than 1,500 customers.
Delayed shipping and delivery
It is not available on Amazon or eBay. The only place customers can buy this clipper is on trimsher.com
The reviews on the website are fake. Reverse image search showed the images were stockphotos. See search result below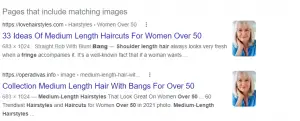 Is Trimsher Clipper any Good?
According to our findings, Trimsher clipper isn't a unique product per se. In fact, it's available on Aliexpress and Alibaba for $2 – $5. The company behind this product had simply bulk ordered for the clipper either on Aliexpress or Alibaba, then gave it a new name, website and brand. Even the images used on the website were gotten online. For example, the picture of the tattooed barber cutting a client's hair was gotten from this article on male grooming. See image below –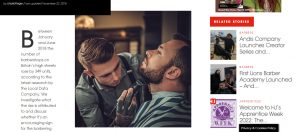 Conclusion
Trimsher appears to be a good portable trimmer or clipper. Sadly, the product is sold for expensive price when you can actually get it for $3 or $5 on Aliexpress. Meanwhile, since Trimsher is manufactured in China, customers might not be totally satisfied with the product.
Have you bought Trimsher? What are your experiences so far? Please share on the comment section!
Prefer to do so anonymously? All you need to do is go here >>>> Fill The Form
Author Profile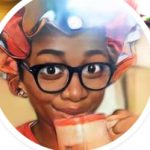 Wendy is a fraud fighter whose contents mainly target online scams. Her investigations have appeared on Itisreviewed,and elsewhere. She spends her free time reading novels, binging on Netflix, and listening to hip-hop.