Does Miracle Smile water flosser really whiten the teeth or is it an ordinary water flosser? Here's a consumer report. In this review, I share my experience using Miracle Smile Water Flosser, its pros, cons, and everything you need to know before buying it.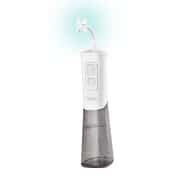 Overview of Miracle Smile Flosser
Miracle Smile is a cordless rechargeable water flosser that is designed to clean the whole mouth in just seconds. It works by using its four water jets to spray water on the top, bottom, front, and back of the teeth, and below the gum- line. It claims to be faster than regular teeth cleaners and promises to give you cleaner whiter teeth in just ten seconds.
How true could this be?
My Experience Using Miracle Smile Water Flosser
I saw this product on TV and thought it looked great, so I ordered it from their website, buymiraclesmile.com for $39.99. It took a whole 14 days for it to arrive, which was a bit longer than I expected. When it did arrive, the box contained the Miracle Smile Flosser and a USB cable for charging it.
However, the product doesn't live up to the promises on the website. I used it consistently for three weeks but noticed no difference in the stains and colour orfmy teeth. The Miracle Smile Flosser is just an overpriced water flosser.
It didn't remove plaque and tartar like they claimed it would, and my teeth didn't get any whiter. Honestly, other than helping me rinse my mouth after a meal and floss, it doesn't really work.
Does Miracle Smile Flosser Work?
It doesn't work as claimed. Miracle Smile doesn't really whiten the teeth or get rid of plague and tartar as advertised. It only removes food debris stuck between the teeth. Its best to visit a dentist if you are hoping to get rid of your plaque and tartar.
Miracle Smile Pros: What I Like About This Water Flosser
It's cordless and rechargeable, which is convenient.
I like that I can use it in the shower, making it more versatile.
The lightweight design is comfortable to hold.
Miracle Smile Flosser Cons:
It didn't live up to its promises of removing plaque and tartar or whitening my teeth.
It's not very effective beyond basic rinsing and flossing.
The shipping took a longer time (14 days) than I expected.
How To Use Miracle Smile Water Flosser
Miracle Smile Flosser has three settings; High, Pulse, and Sensitive. You can use any of the settings depending on your needs. Follow the steps below after choosing your preferred settings;
Insert the H-Shaped Flossing Head into top of unit
fill the water tank with water (I recommend adding mouthwash for better cleaning result)
Close the water fill door until it snaps into place ( so as to avoid leakage) 
Put the H-shaped flossing head into your head and press ON/OFF button
Gently glide it from one side of your mouth to another
Where To Buy This Water Flosser
Miracle Smile is available for sale on buymiraclesmile.com. The price is $39.99.
Miracle Smile Flosser Features & Specifications
360-Degree Cleaning: The device sprays water all around your teeth to clean them from every angle in one go.
Fast and Effective: It's super quick, taking just ten seconds to clean your teeth well. Saves time while keeping your mouth healthy.
Easy Controls: It has two buttons that are simple to use, so you can customize your cleaning experience.
Thorough Cleaning: It cleans both sides of your teeth effectively, ensuring all-around cleanliness.
See-Through Water Tank: The water tank is clear, so you can easily see how much water is left and refill it when needed.
Alternatives To Miracle Smile Flosser
Waterpik Water Flosser: This one's cordless and has three settings for water pressure. It's gentle on your gums and works well with dental work. If you have braces, it's good for cleaning them. But it takes a bit more time compared to the Miracle Smile.
MySmile: The MySmile Irrigator X is also cordless, and it runs on batteries. It's pretty versatile with five pressure options and has a bigger water tank (350ml). Plus, it comes with eight different tips you can change depending on what you need.
Instafloss: This one is a bit bulkier than the Miracle Smile, but it has a similar U-shaped head that cleans the top and bottom teeth at the same time.
Related Post: Sweet Smile Whitening Teeth Powder
Conclusion
Miracle Smile Flosser doesn't really whiten the teeth or get rid of plague and tartar as advertised. It only removes food debris stuck between the teeth. If you're looking for a teeth whitening solution, you need to talk to a dentist.