MG Pro is a 2020-launched Expert Advisor that looks to give some of the big guns in the business a run for their money. But while they have a lot of good signs for a new EA, theres still a lot of work to be done to get them anywhere near the top. Read this review of MG Pro EA to know what experts think about it.
A forex robot is a software that is granted access to forex investors' accounts to determine best trade times and carry out trades automatically. Forex robots are more effective than humans because their judgement is based on pure analysis and data comparison, no emotions.
However, good forex robots are hard to come by, which is why we call attention to them when we find them. This review covers all you will need to know about GPS Forex Robot.
About MG Pro (sinryadvice.com)
MG Pro EA is one of the few releases by Sinry Advice. Sinry Advice is a group of developers who since inception in 2020, have released a bunch of forex softwares. They do not yet reveal their location or who they are behind the corporate entity. Nevertheless, it's difficult to question them so much when their softwares are yet to outrightly flop.
Sinry Advice claims MG pro is their most profitable forex robot yet. It is available for sale at the price of $288, which is neither too friendly nor too expensive a price. They claim to possess a good trading strategy that guarantees a profit of 4-10% per week with up to 74% winning signals; a modest number.
MG Pro EA: How it Works
Here are a couple of things you might find interesting about MG Pro EA from SinryAdvice;
MG Pro Trade Strategy
MG Pro EA makes use of a 12-indicator strategy, where it studies the market momentum, price action and key levels in order to determine the best trade periods. It operates in an M5 time frame that helps it to get in and out of the market quickly while retaining profit levels and reducing risk of market changing.
The photo below shows the recommended setting for this EA to produce the best trading results.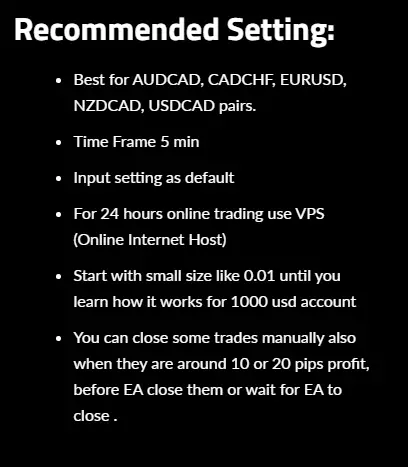 MG Pro Trading Results
One impressive thing about MG Pro that shows they actually mean business is that though young, they already have live trading results on myfxbook.com. It is very important to find out from third party sites how well a forex robot performs before employing it's services.
MG Pro EA Pros and Cons
Below are the pros and cons of MG Pro EA
Pros
Makes use of a 12-indicator strategy
Is fully automated
Easy-to-use default setting.
Verified Live Trading Results on MyFXBook
14-day money back guarantee
Cons
The vendor company is new and yet to stand the test of time
They still owe customers a lot of company background info.
They're lacking in strategy insight. We're only told too little about how it works.
MG Pro EA Review: Conclusion
MG Pro EA does possess a lot of promise, which it doesn't seem like it might fail. However, the system is still young and is yet to stand the test of time. As a matter of fact, it's live trading results on myfxbook are but a few months old, but watch that space.
To try and gain trust, they even give customers 14 days to decide whether or not the EA delivers, and request for a refund if it doesn't (Terms and Conditions apply).
That said, we think this forex robot is worth giving a try. If you've had any experience with this EA, do leave your opinions in the comment section.
Meanwhile, we have provided a list of the best forex EA of 2020. These three EAs come highly recommended. DON'T trade forex without using one of these three Expert advisors
EXPERT Recommendation: Use The Best Forex EA/Robots In The Market Below
Visit a legit forex robot