Matrixfxtrade.com is an offshore broker website that poses as an honest, licensed broker. If you rely on MatrixFX Trade as your forex broker, you may well be in for loads of disappointment. We advise you to read this review to understand why.
Probably the first thing you should consider when beginning forex trading, is choosing the right broker. This can go a long way to defining your forex trading experience. In order to help you with this, we've made it our job to review various broker websites and help you tell the real ones from the scams. The following review will tell you all you need to know about MatrixFX Trade brokers.
About MatrixFX Trade Brokers
MatrixFX Trade is a brokerage arm of MFXT Ltd., a company located in Malta. They claim to deal in over 70 assets (including cryptocurrency) while working under European and Maltenese guidelines. According to matrixfxtrade.com, they have been authorised by the FCA, MFSA, BaFin, AMF, CONSOB and MIFID Compliants.
Even with all of this, some things just didn't feel right with MatrixFX Trade brokers. We did some digging to know why and here is what we found…
Why You Should Beware of matrixfxtrade.com
Bleaxmond brokers have more than just a few shady things about them. However, here are 3 major red flags that should warn you about them.
MatrixFX Trade Withdrawal and Deposit
One bewildering fact about matrixfxtrade.com is that they somehow manage to forget to specify their minimum deposit amount in their presentations. This is a very disturbing fact knowing that legitimate brokers know how important information like this is.
It wasn't until we tried opening an account that we sawit written that the minmum deposit was $300. Quite a high minimum deposit amount, to be sure. Legit brokers usually charge about $100 or less. Some even accept as low as $5 minimum deposits.
Also, within the terms and conditions of the webiste, some other pieces of important information are missing including; minimum withdrawal amount, withdrawal fees, withdrawal processing time, dormancy fees, etc. These are very important details that help people choose their brokers well and legit brokers will never forget them.
Matrixfxtrade.com Trading Platform
Matrixfxtrade.com, to our utmost surprise, made no mention of a trading platform on their webiste. The claim to offer a leverage of up to 1:100, but seem to forget to tell us what trading platform will be used to achieve it. There are two shady things to be pointed out of this fact.
The first is the fact that MatrixFX Trade brokers claim to be regulated by various EU financial regulators who already, have set the maximum leverage level to 1:30. So they're definitely either lying about the licensing or about the leverage.
Secondly, what sort of broker forgets to tell intending investors what platform they'll be using. Nothing about a trading platform is mentioned on matrixfxtrade.com. That is, except in the T&C section. There, the MT5 is casually referred to as though it had already been well established. This is wrong and could serve as a potential red flag.
MatrixFX Trade Licensing and Regulation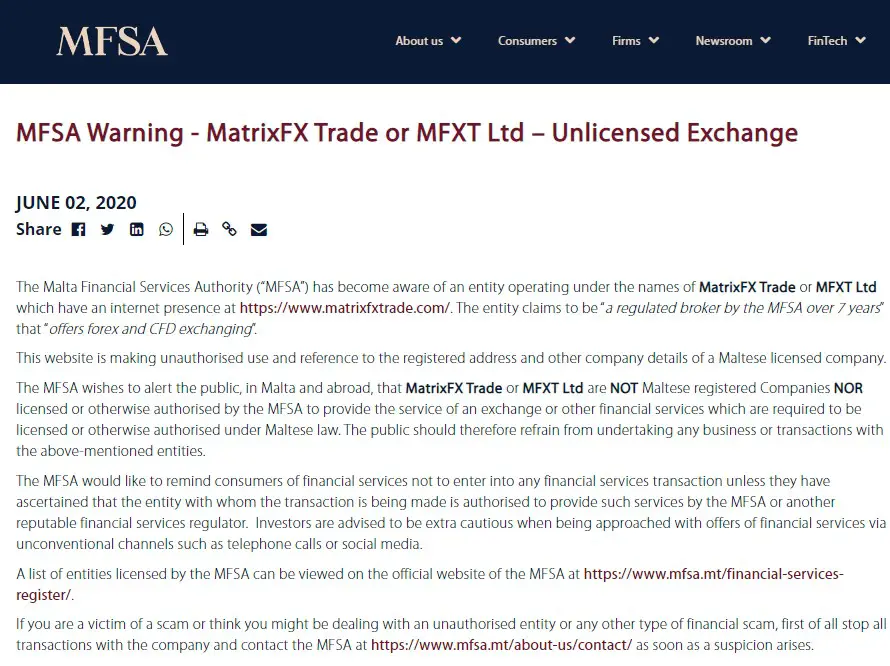 MatrixFX Trade brokers claim to be located in Malta, hence regulated by the Malta Financial Service Authority (MFSA). But as seen in the photo above, the MFSA issued a warning to them sayying they were never licensed to provide any financial services, let alone be a forex broker.
At other places in the website, they claim to also be registered by the CONSOB, Italy, MiFid compliant, the FCA and about 2 other agencies. After failing to find them in the FCA registry, we didn't need any further proof. MatrixFX Trade is a scam!
MatrixFX Trade Review Conclusion: Is matrixfxtrade.com Legit?
No. Matrixfxtrade.com claims they are regulated by at least 4 agencies. It turns out they are not regulated by a single one. You would be trading with them to your own disadvantage. The warning issued them by the MFSA only makes that worse. We always recommend you find a licensed broker, regulated by a reputable agency to trade with. Avoid illicit brokers such as matrixfxtrade.com.
Our Recommendation For You
You can make money online by trading with reputable, reliable and trustworthy brokers. We've been trading with the Fortrade broker below for sometime now and we have no regrets!
FORTRADE- One of the Top rated brokers and a good choice for new traders. This broker is Licensed in UK(FCA), Australia(ASIC) and Belarus(NBRB). Guess what? you can trade from any part of the world as it accepts Traders Worldwide. Interested in trading with one of the best Forex brokers? Head Over to Fortrade and start trading!