Do you want to buy lands or list your lands on your landmodo.com? Are you wondering if the website is scam or legit? Read this review to find out everything you need to know.
What is Landmodo?
It is a website were you can buy lands and properties from the different states in United States. You only need to visit the website, sign up as a member, then get access to the different listed lands. The website landmodo.com has been functioning for eight years now. The platform also has a very active YouTube page were available lands are shown and listed.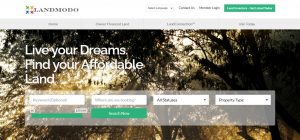 What You Should do Before Buying Lands from Landmodo
Check Land Type:
Ask the seller for the APN (Assessor's parcel number). This information should be readily available on the ad. It is always listed in the ad description. You'll be able to find out what category a property falls under. It's either residential, commercial or industrial.
Other Things to Consider Before Paying for Landmodo.com deals
View the property. Do not buy land over the phone or by mail or email. Talk to residents who live in the area.
Look into the amount of all fees, such as real estate taxes, or community assessment fees.
Meet with real estate agents in the area to find out the market for this property. Ask the agent how long it would take to sell the property if it became necessary.
Check with the county planning office to learn of plans for the land or property near this area that may affect land value. It would be important to know if an airport or dump is scheduled to be built in the future.
If the land is undeveloped, know who will be responsible for the costs of building roads, utilities or sewers.
Reviews
Reviews online indicate that Landmodo is a genuine website were you can buy or list lands. One of the perks of buying land from the website is the option of owner financing or seller financing with no bank requirements. However, on social media, one of the complaints raised is that most of the lands are situated in flood areas.
On the other hand, lands are quite cheap on the website. You can also make down payments, and pay the balance installmentally.
Sounds pretty cool right?
Don't forget the steps to take when buying lands online. Meanwhile, have you bought land(s) from landmodo? Was your experience good or bad? Please share in the comment section. You can also send an anonymous comment here.