Have you received a link that says Jollibee is giving away prizes for its 40th anniversary? Beware! It is not from a legit source. NO, Jollibee is not giving out free gifts and cash for its 40th anniversary celebration.
This reviews exposes everything you need to know about the Jollibee 40th anniversary message circulating on social media, and why it is a scam.
Why It's a Scam:
First of all, the Filipino fast food chain 'Jollibee' was founded in 1978, so it is 43 years not 40 years. Secondly, there's no information about any giveaway on the official social media pages of Jollibee.
Meanwhile, a close look at the websites offering the anniversary prize show it's not from the official Jollibee website which is jollibee.com.
Of a truth, the giveaway message was created by fraudsters who want to steal your personal and financial information. So how do they intend to scam you?
After completing the survey, you'd be taken to a phishing/malicious website. There, you'll be made to provide your personal details/ credit card information for 'processing fee' and whatnot.
These scammers will remove every dollar in your bank account.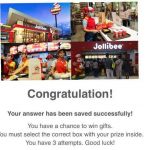 Don't be fooled by how convincing it looks, it is fake! There is no mention of such giveaway at the Jollibee social media handles below –
If you have submitted financial information on the fake website, immediately contact your bank for help.
Share what you know or ask a question about this article by leaving a comment below.
What Should You Do If You Receive Phishing Texts Like This
No matter how convincing it sounds, you shouldn't visit the link or links attached to such messages/mails or send your personal information.
The first thing you should do is ignore such messages, and look for reviews online about it.
See similar Giveaway scams – Amazon Package Loyalty Reward, UKPepsi Lottery Scam, Eyeverify, Bath$Body Coupon, Amazon Airpods Raffle Scam, and many more.
Author Profile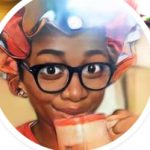 Wendy is a fraud fighter whose contents mainly target online scams. Her investigations have appeared on Itisreviewed,and elsewhere. She spends her free time reading novels, binging on Netflix, and listening to hip-hop.