A year after Daily Wire had a fall out with Harry's Razor, Daily Wire's Jeremy Boreing has launched its own product which is called Jeremy's Razor. Aside from its awesome commercial which is the currently the talk of the internet, is this razor worth the hype? lets find out!
Jeremy Razors – Everything You Need To Know About It
It's a newly launched shaving kit that contains a high-quality founder's razor, shaving cream, 8-blade subscription,  after-shave balm, and a travel-friendly pouch. The bag contains fresh menthol and tea smell, which triggers a happy feeling.
One of the standout perks of this product is that it comes with a personalized signature. You can also add the feeling of using a 'protest' product.
However, aside from being a brand with an initiative against woke corporations, could Jeremy Razors beat Gillette's or Harry's razor's hands down?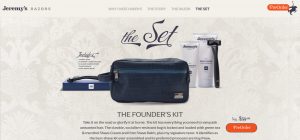 Where to buy Jeremy Razors
The shaving kit is available on preorder at jeremyrazors.com or ihateharrys.com
Where are Jeremy's Razors Made?
There's no information on the website about where the razors are manufactured. Lots of people hope it's manufactured in USA.
Pros of the Jeremy razors
It comes in a clean case
It comes with a shaving cream, blade subscription, and after-shave balm
Upon pre-ordering it, you can customise your further subscription plans for blades.
The razors are furnished with sharp cutting edges for a perfect look.
Jeremy Razors Vs Harry's Razors – Which is better?
Harry's Razors has been in the market for a long time, and as a result of this, the company knows what users want. However, because it's made in China, blades have to be replaced more often than those of comparable razors from other brands. On the other hand, Jeremy's Razors look promising, though it has not been tested by the public yet.
The commercial is fun and the product description includes "It identifies as the best shave kit ever assembled and its preferred pronouns are Buy/Now." However, I'm not convinced it is worth $60 (8 blades, handle, and some shaving cream in a "socialism-resistant bag") It looks overpriced to me, probably cheap OEM blades and "tungsten" (tungsten carbide?) handle. Alibaba has hundreds of offers below $5.
Conclusion
Jeremy's razors looks promising, however we're not certain if it is worth the $60 preorder price. Meanwhile, there's no information about where it's manufactured. As a result of this, we cannot vouch for its efficiency.
Have you bought Jeremy's Razors? What are your experiences so far? Please share on the comment section!
Prefer to do so anonymously? All you need to do is go here >>>> Fill The Form