InterCryptos located at intercryptos.net claims it has the best trading platform. However, we discovered a lot of red flags about this broker.
Should you have a cause to worry while trading with this broker? Our review serves as an eyeopener, you shouldn't trade with InterCryptos before reading this review.
With online scams springing up every day, we have taken the responsibility of reviewing products, stores, websites e.t.c in order to save you from making wrong decisions.
What You Should Know About InterCryptos
This brokerage claims to be located in the UK and Authorized by the Financial Conduct Authority (FCA) in the Uk. According to the information on their homepage, they're a financial management firm that manages crypto assets, servicing over 60 000 clients with the help of 5000 dedicated, professional brokers, which make sure clients get stable and guaranteed income.
However, there is more to what meets the eyes. During our investigations, we noticed two inconsistencies about this InterCryptos Broker. Below, we have taken out time to explain reasons why this Broker is not worth your time and effort.
Reasons Why Intercryptos Sucks!
Don't be deceived by the testimonials on intercryptos.net. Below are reasons why Intercryptos is nothing but a well disguised scam;
Fake License Number
In a bid to make you believe that they are legit, InterCryptos claims it is owned by the Company Intercryptos Ltd which it says is located in the UK and has been licensed under the FCA with the following reference number ( 900577).
But this is not true. When we copied and pasted the reference number on FCA list we discovered it belongs to another company – Uphold Europe Limited. This shows that Intercryptos is misleading its clients with the license number of a regulated broker which have absolutely nothing to do with Intercryptos.
FCA Warning Against InterCryptos Cloned Website Scam
The Financial Conduct Authority has issued a warning against InterCryptos broker which is passing itself as a subsidiary of a company that has absolute nothing to do with it. The image below is the warning issued by the FCA against InterCryptos;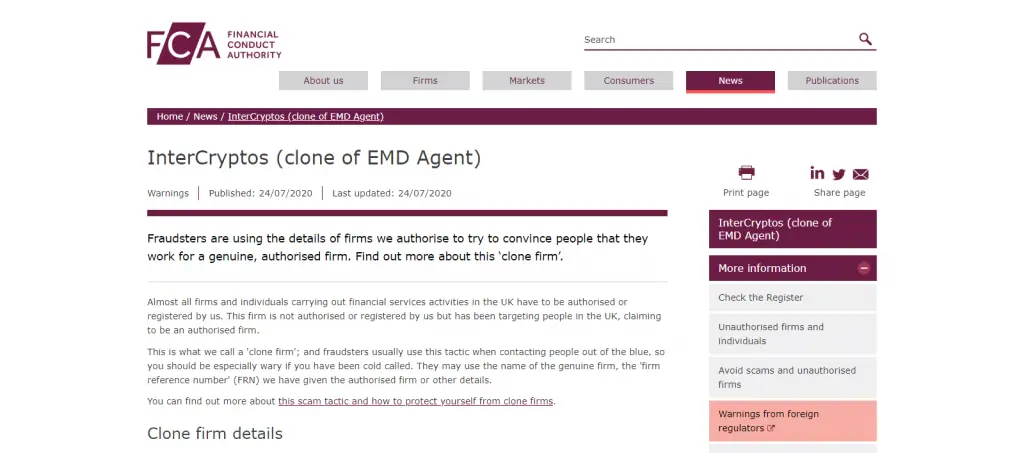 InterCryptos Deposit/Withdrawal Methods and Fees
InterCryptos accepts deposits with wire transfer, as well as major credit and debit cards like VISA and MasterCard.
However, going through their Terms and Conditions, we came across some rather disturbing clauses. InterCryptos say they charge fees, without elaborating what exactly. And the funny thing is that they also say those fees can be charged directly from your bank account or credit card, without your explicit consent.
That is nonsense! In the future, always endeavor to read the terms and conditions of any organization, even if it is very lengthy. It might reveal a can of worms, just like we found out on intercryptos.net
Fake Testimonials
This is where Intercryptos.net shot itself in the legs (I kid you not!). So this broker has provided a couple of reviews from so called satisfied clients. But they are all fake!
In some of the reviews, the clients mentioned they joined Intercryptos since 2017 and 2018. However, this is not true. When you check on Who.is for the domain registration date, you'd found out that Intercryptos.net was registered on the 28th of April 2020. This clearly shows that the testimonials are nothing but well-scripted lies.
Furthermore, the pictures of the happy clients were all stolen from the internet. In fact, most of them were gotten from Pixabay.com. Curious? simply right click on any of the images and click the option 'Search Google for Images'.
Is Intercryptos.net Legit?
The answer to the question is capital NO. Intercryptos is no doubt an untrustworthy broker.
In summary, this broker is not regulated, provides fake license number, and would likely steal money from your credit card without your consent. Also, FCA has issued a warning against them.
So, we don't recommend InterCryptos broker because your funds are not safe with them.
Our Recommendation For You
You can make money online by trading with reputable, reliable and trustworthy brokers. We've been trading with the Fortrade broker for sometime now and we have no regrets!
FORTRADE- One of the Top rated brokers and a good choice for new traders. This broker is Licensed in UK(FCA), Australia(ASIC) and Belarus(NBRB). Guess what? you can trade from any part of the world as it accepts Traders Worldwide. Interested in trading with one of the best Forex brokers? Head Over to Fortrade and start trading!