Over the past three years I've battled with constant headache, relying on painkillers and whatnot. However, at a point I got fed up and decided to try other remedies. A friend told me about the IceBeanie Migraine Relief cap and I decided to give it a shot. Here's my honest review.
In this review, I share my experience using Ice Beanie to stop migraines, its pros, cons, and everything you should expect when you buy this cap.
But first, lets take a brief look at the product description.
What Is Ice Beanie?
Launched in 2021 through the help of Shark Tank, IceBeanie is a wearable ice cap that promises a natural and effective solution for migraine, fever, stress, inflammation, hangover, tension, chemo recovery headache and other sports related injuries. It works by using the " Cold compression therapy" after being placed in a refrigerator for sometime.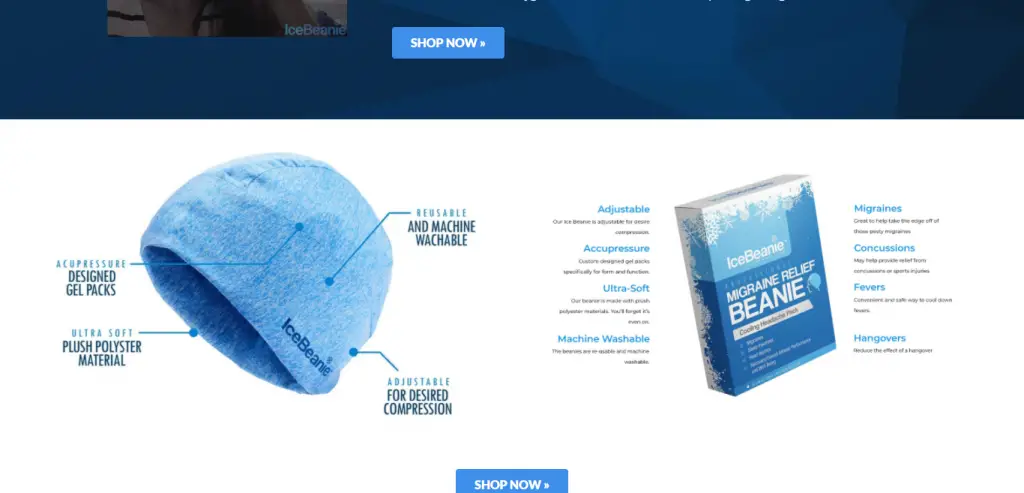 My Experience Using Ice Beanie For My Migraines
The first thing I love about Ice Beanie is that it offers ice packs on both sides and also the top of the head. It cools my entire head consistently offering superior migraine relief. I like that even when it's frozen you can roll it up – I've got a smaller head and it's a bit large on but it easily rolled to fit me better. The fabric is so soft and comfortable. It doesn't get wet even when frozen. 
If it's too hard once it's frozen (especially if it froze in a weird shape), I just let it sit out for a few minutes to soften up. I actually like mine pretty solidly frozen because it offers the most relief. I also have thick hair that insulates me from ice packs. XD If you prefer a softer / more flexible ice pack, they say you can freeze for 90 minutes – 2 hours and then transfer to the fridge to keep it flexible and cool. I haven't tried that, because I like it as cold as possible.
Does Ice Beanie Work On Migraine?
Yes it works. My experience and customer reviews online prove that this hat actually does what it says. However, it's more like a temporary fix. It doesn't necessarily make the migraine go away but is amazing relief to let you actually fall asleep. Some customer reports found the flat ice piece inside the hat to be quite uncomfortable.
Ice Beanie Pros: What I Fancy About It
This ice pack cap is comfortable to wear
The fabric is like a soft
It doesn't turn into a wet mess when it's frozen.
Ice Beanie For Migraines Cons: What I Don't Fancy About It
The only downside is it doesn't stay cold as long as some others.
Where To Buy
You can buy Ice Beanie from their official website and also from Amazon as at the time of writing this review. The price is $34.99.
Did Shark Tank Endorse Ice Beanie
Yes, Ice Beanie was featured in the season 12 of the Shark Tank show and Mark Cuban the presenter closed the deal at a price range of $50,000 for 25% equity which verifies its legitimacy.
How Long Should I Wear Ice Beanie
You are expected to wear it for a duration of 20minutes after each session then wait another 20minutes before wearing it again. It is not supposed to be worn for extended period of time.
How To Use
To use the Ice beanie is pretty simple
Put the IceBeanie in the freezer for about 45-60 minutes. Let the gel packs get cold.
Once it's cold enough, remove it from the freezer.
Place the IceBeanie on your head and feel the instant relief from migraine pain.
Note: It's washable, reusable, and totally portable. Plus, it molds to your head as it warms up from your body heat.
How Long Does Ice Beanie Shark Tank Last
Ice Beanie can give you relief for up to 45-60 minutes after being placed in the freezer.
Conclusion
Ice Beanie helps to relieve migranes and headaches with its acupressure-designed gel packs. However, it is not a permanent fix and not designed to be worn for a long period of time.
Also see – Coolcura device for migraine