Fxcentrum.com has a homepage that looks like it was designed as some classroom project. And it is sad to say the same can be said about the broker. We advise you to read this FXCentrum broker review to before you think of trading with them.
Forex trading is an increasingly lucrative modern market. And as such, it is subject to modern problems such as online scammers and illicit broker websites. So in order to keep traders from them, we have made it our duty to review forex broker websites, then help you tell which one is legit and which one's not. This review tells you all you need to know about FX Centrum Brokers.
About FX Centrum Chain Broker
FXCentrum is a forex brokerage company located in Mahe, Seychelles. The company is owned and operated by WTG Ltd. They claim to also be registered and regulated under the laws of Seychelles. Fxcentrum.com trades forex, stocks, indices, and commodities. They offer various bonuses, while also upholding a maximum leverage of up to 1:1000; a disturbing figure, considering the FSA, Seychelles allows a maximum of 1:500
Fxcentrum.com: Reasons to Avoid This Broker!!!
Explained in this review are tiny details one could easily miss, that prove FXCentrum isn't a broker you should trade with.
FXCentrum Withdrawal and Deposit
One very disturbing thing about FX Centrum broker is that they have no minimum deposit amount specified. A broker's minimum deposit amount is one of it's most important features. The same problem is encountered for minimum withdrawal amount; it isn't specified. There's definitely something not right about FX Centrum broker. The payment methods specified are debit/credit cards, Paypal, wire transfer and Perfect Money.
The account dormancy policy on Fxcentrum.com allows the broker to close your account after three months of inactivity. However, it doesn't say what happens to the funds in the account. We can only assume that you can forget your money by then. This is a shady move, even for scam brokers.
A lot of other vague fees are included in the terms and conditions without being properly defined and this only serves to fuel our suspicion. It would appear the thing this broker does best is make vague promises such as the one below. For goodness sake, as of the time of this review, the iPhone 12 is not even out yet.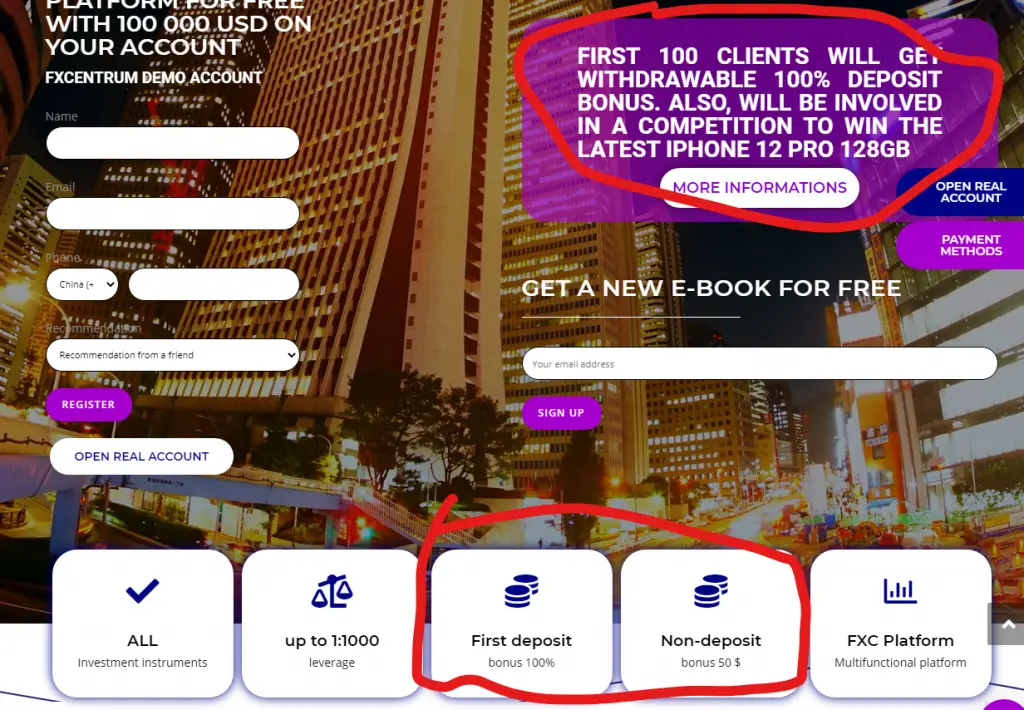 FX Centrum Trading Platform
The trading platform available on fxcentrum.com is neither the Metatrader 4 nor Metatrader 5. This is wrong, because being the two most efficient trading platforms on the market, they are used by legit brokers. Hence, their unavailability leads us to mistrust this broker.
To be fair, we've seen worse web trading platforms on illicit broker websites. As a matter of fact, this one seems to be equipped with the necessary tools. But having been promised a demo account and being unable to open one leads us to wonder how many other fxcentrum promises might be false.
FXCentrum Licensing and Regulation
FX Centrum claims to be registered by the Financial Service Authority (FSA), Seychelles. This regulation supposedly comes under the name of their parent company, WTG Ltd. However, after checking the FSA registrym we discovered that this company is registered, but not licensed to operate as a broker.
Consequently, this indicates that FX Centrum is an UNLICENSED broker and should not exist, as far as it concerns the forex market.
Conclusion: Is Fxcentrum.com a Legit Broker?
No! FXCentrum is a scam broker, making promises that cannot and will not keep. Besides, there is the more important case of the broker being unlicensed and unregulated. This makes it a big risk to any funds deposited with them. Hence, we cannot recommend this broker to you, and we advise you deal with a transparent broker who's licensed by a reputable agency.
However, if you've got anything else to say about this broker, do mention it in the comments section.
Our Recommendation For You
You can make money online by trading with reputable, reliable and trustworthy brokers. We've been trading with the Fortrade broker below for sometime now and we have no regrets!
[supsystic-price-table id=10]
FORTRADE- One of the Top rated brokers and a good choice for new traders. This broker is Licensed in UK(FCA), Australia(ASIC) and Belarus(NBRB). Guess what? you can trade from any part of the world as it accepts Traders Worldwide. Interested in trading with one of the best Forex brokers? Head Over to Fortrade and start trading!