Have you received an email from fipsparcel.com? Do not panic! fipsparcel.com is a legit website operated by Phishme, which is owned by cofense.com. Read this review to find out everything you need to know about Fips Parcel at fipsparcel.com.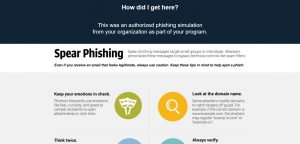 About:
Fipsparcel.com is under Cofense, an organization which help global organizations – including 250 of the Fortune 1000 – detect and respond to phishing attacks that evade perimeter controls. The company creates phishing simulations to help prevent phishing scams by giving staff members an idea of how scams work in the real world.
Phisme does this to see how vulnerable staff members are when it comes to phishing attacks. So, if you see a message with a fipsparcel.com or delivery.fipsparcel.com link in it, it means you are being tested to see if you would fall for the phishing scam by clicking the link.
When you visit fipsparcel.com, you'd see tips on how to recognize and avoid phishing scams that come in form of email or text message.
Some of the tips shared include –
Keep Your emotions in check
Look at the domain name
Think Twice
Always Verify
Meanwhile, if you are in doubt about any platform- be it trading, shopping, investments, or even emails. We are always here to guide you make the proper decision.
All you need to do is go here >>>> Fill The Form