Are you a first time mom looking for the best smart breast pump? Do you want to buy Elvie Stride? Read this honest breastfeeding mom review.
The latest smart breast pump by Elvie is something to be super excited of. If you're a mom like myself, you'd jump for goodness because damn! Who doesn't like the idea of a silent wearable breast pump COVERED by Insurance.
Now, I've had a couple of friends who've shared their qualms about Elvie pump, and the complaints were summed up in one word – EXPENSIVE. Yeah, right. And this problem has been solved with this new product. The Elvie Stride is covered at 100% by Tricare and most other healthcare plans. 
You don't use Tricare healthcare? No problems!  Click here to check to see if your insurance will cover all or part of the cost.  Insurance aside, lets find out what makes Elvie Stride better than Elvie Pump.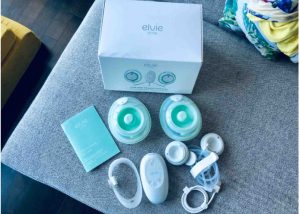 Elvie Stride Unboxing:
Elvie stride comes in a white box that contains – 1 – Hub, 2 cup fronts, 2 cup seals, 2 breast shields (24mm), 2 caps, 1 Tube splitter, 2 short tubes (for cups), 1 long tube (for hub), 1 clip, 1 cover, 2 valves, 2 diaphragms, 1 charging cable.
However, if you're on exclusive breastfeeding like myself, you should purchase additional parts. If you don't, you'll be doing dishes several times a day.
Testing:
First of all, one of the reason why I wanted to try Elvie Stride was to see if the suction was way better than the original Elvie. Sometimes with the original Elvie, I have to mess with the parts and take it on and off the breast.
But with Elvie Stride, I had great suction every time I placed it on my breast.  After about 10-15 minutes of pumping, I had 120-200 ml between both breasts.  Now, this is quite good! I can't remember the last time I was able to achieve that with any breast pump.
 I am honestly satisfied with the suction level and how it empties me.
What I LIKE About Elvie Stride Pump:
What I love most about Elvie Stride is the pocket friendly price. It's sold for $249. You can get it for less or even free with insurance. Also, I love that it can be controlled with the Elvie app in my phone. It's a smart way of keeping tabs on my pumping history.
There are 10 intensity settings in both Stimulation and Expression modes for me to choose from. Plus, I can customize my pump so it always starts with my preferred settings.
Lets I forget, it is not noticeable when wearing a shirt. It will make your breasts larger but not crazy larger. I'd recommend wearing a shirt over it as it does the job of properly hiding the hub connected to your pants.
Elvie Stride: What I DON'T Like
Elvie Stride is not as quiet as the original Elvie. Don't get me wrong, it's not noisy at all, but then, it has this buzzing sound that is quite louder than its predecessor. Still, apart from the wearer, no one else would know you're wearing a breast pump if you don't tell them.
The wearable motor is something I don't like too. Though it's not terrible but you do have to either wear it clipped on to you or be seated. Also, can something be done about the breast shield? Only a 24mm breast shield is included (If you need a 21mm or 28mm so that is an automatic extra cost).
Things To Consider Before Buying Elvie Stride
Elvie Stride is an ideal breast pump for exclusively pumping mothers, mothers with other small children at home, or mothers returning to work that wants to be able to pump quietly at her desk. 
However, before making a purchase, you should find out if it is covered by your insurance. Also, find out if you'd need a 24mm breast shield or more. New mothers should check the following list of must-have items for breastfeeding –
Best Bottle Drying Rack – It's super cheap and compact. You should have one for travel and one for home use.
Nipple Cream – This is one product I swear by. It has this cooling effect and relieves cracked nipple.
LaVie warming Lactation Massager – This thing warm & massages which helps improve milk flow and make pumping faster.
Breast pads – Help secure those leaks with this affordable nursing pads.
Breast milk storage bags – I honestly haven't had an issue with any other brands I've used. I like the price point of the Dr. Browns bags so I buy them the most. 
Sterilizer Bags – You'll want this to sterilize new bottles, parts, pacifiers, etc. I also use them when traveling. There are cheap and you can use each bag twenty times. 
See more Product Review