Are you looking for a sexy Bra that gives comfort? Are you considering buying List Sincerely Bra ? Don't do that yet. Go through this Honest Review to find out if it is genuine or a sham.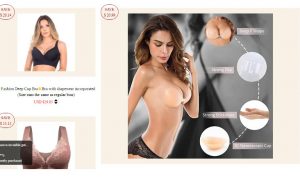 List Sincerely Bra: What is It?
List Sincerely Bra is an Ultimate Lift Full-Figure Seamless Bra, Comfortable and Breathable Without Restraint. It is a posture support bra that improves saggy breast with its criss-cros double layered support. No wires digging in and no tight straps putting "dents" in your shoulders. Specially designed for leisure wear and sleeping.
Interestingly, the elasticity and softness of the ribcage band is super nice. The bra is available in different cup sizes.
Is List Sincerely Bra a Genuine Comfort Bra?
List Sincerely Comfort bra might not work as advertised, especially as the bras themselves are not unique. This was exactly the case with Semibra, a bra that was sold with similar claims. When customers finally received they were totally dissatisfied with it. Instead of the wireless comfort strapless bra they received an inferior piece of clothing that couldn't hold the breast firmly. It also came in smaller sizes.
Pros
Provides seamless fitting and improves posture
Made with breathable fabric
It is hand and machine washable
Available in all sizes.
Cons
Conclusion:
List Sincerely Bra seems to be a great wireless comfort bra, however customers shouldn't have high expectations. Like most trendy comfort bra, results might vary.