Are you looking for a multipurpose cleaner? Do you want to buy Clean Boss? Is it worth your money or is it a fad product? Read this review to find out everything you need to know about Clean Boss Cleaner.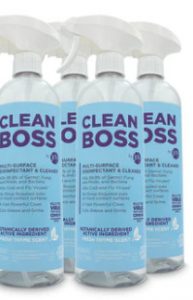 Clean Boss: What Is It
Clean Boss is a multi-surface cleaner and disinfectant sold atcleanboss.co. It is a reincarnation of the same cleaning product that Joy Mangano introduced a couple of years ago. One of the things that make it unique is that it does multiple job – Cleans, Disinfects, Deodorizes, Sanitizes & Eliminates Allergens.
Currently, it is the rave of the internet as it is sold for a promo price of buy 2 get 2 free. Sounds incredible right? Is it really worth the price? Lets find out!
Does Clean Boss Really Get Rid of Germs?
Certainly so. It has a 5.4 star ratings on US Reviews, and 33% of users said they'd buy it again. However, some customers complained that it has a bad odor that is hard to get rid of. According to the complaints, the vanilla scent smelt weird, like musky. See what users have to say below –
This product has the most disgusting odor! Leaves a long lasting odor too! I had to air out my house for 4 hours! Smells like turpentine! Wear a mask and gloves while using. Had to wash my hands several times to get the odor off! Avoid buying this product. Seems like a good buy at this time of shortages but, it is not! Vanilla? What a joke! Don't buy

Debpeg
I received the vanilla scent and when the box arrived, I immediately smelled the weird smell even before opening the box. When I opened the box, one of the bottles had a tiny leak and it didn't leak out too much, it was just a few drops but it was an overwhelming smell like musky, I can't even describe the smell but it definitely wasn't vanilla. I gave it the benefit of the doubt thinking okay maybe it was the liquid contact with the box but either way I was going to return it but I wanted to know the true smell so I can determine if I want a replacement. I opened one of the bottles and it smelled really bad. Like I said, I can't describe the smell but it's not what I want my house to smell like after I cleaned it. Anyway, returned and promptly received my refund so at least there's that.

Roxann C
Cons
Bad Odor
All ingredients are not mentioned thereby difficult for some users because of allergies.
Conclusion:
Clean boss is a viral multi surface cleaner that is been sold at a discount offer of buy 2 get 2 free. However, reviews online show that it's not an entirely great disinfectant. Complaints documented online include – offensive smell and leaky spray bottle.