Do you want to buy dining table or chairs from boisandcuir online shop located at boisandcuir.com? Beware! It is not a legit online store to shop from. This review exposes everything you need to know before shopping from this store.
Boisandcuir.com Legit Online Store?
It is not genuine, folks. Boisandcuir.com otherwise known as Boisandcuir or Boisandcuir com is a suspicious online store that sells variety of furniture like 8 seat dining table, beds, chairs etc. See the drawbacks of this website below –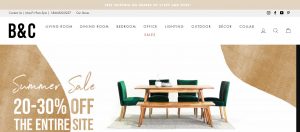 Things You Should Know Before Shopping From Boisandcuir
Complaints:
Some customers who have shopped from this store have left some negative reviews on Facebook complaining that they did not receive items months after payment and still counting.
See what some customers have to say –
I ordered a dining table & 6 chairs in January 2022 and was told it would be delivered in March. Here we are halfway through July with nothing to show for it. As I followed up almost weekly for the past 4 months, they kept telling me that it would be another 2 weeks, and another 2 weeks, and another 2 weeks… In May they told me that it was in the warehouse ready to ship, so obviously, at this point I know I'm just being lied to. They even had the audacity to tell me several times that the "dates have been confirmed and there will be no further delay" all in red letters. I made several attempts to call their customer support phone number listed on the website and have not once been able to reach anyone; I don't even think the line is functional. I'm so disappointed and have been waiting so long that I'm not sure what to do. Ask for a refund? Keep waiting? SO frustrating!!!5 commentsLikeCommentShare

Jillian Luna
We ordered our dining table and bench in December 2021 and it was supposed to have arrived in March. Then it got delayed to April. Then it got delayed to May. Now they are telling us that we need to pay an extra $150 for shipping because it is outside of their shipping area. How is the continental USA outside of their shipping area? Clearly they've had our address for the past 5 months, yet they are only telling us this now? There is something seriously fishy about this company.

Dru Saunders
No Business Address:
There is no business address provided on this website. This indicates that this store is hiding its true nature. Therefore, we cannot vouch for this store's location. It could be located in China or the mountain for all we know.
Zero Customer Support:
Bois and cuir website has failed to maintain a good customer support system. The email address provided as "[email protected]" is fake. It does really serve its purpose. Mails sent to it were not responded to. Again, the phone number provided as "1-866-820-0227 " is fake. The address has been used by many fraudulent website. As a result of this, customers have absolutely no means of contacting the store.
Outrageously Cheap:
The cheap prices of furniture on this store are too good to be true. Remember the saying – If it is too good to be true, it isn't. Its cheap prices are just tricks to lure and defraud unsuspecting customers.
Not Properly Secured:
The website boisandcuir.com isn't risk-free, it isn't secured with McAfee or Norton. The website is vulnerable to hackers who can tamper with customer's personal and financial data.
Conclusion
Boisandcuir located at boisandcuir.com is a viral store luring people with cheap prices. However, it has no business address and zero customer support. Customers wouldn't reach out to them after placing an order.
It's just like IGoodGames, BlackFridayGameLive, Clarkscanada, GreenworksOutlet,kesslove and other suspicious sites.
Have you been scammed?- Do This
Shopping from this store exposes customers to the risk of hacked credit card and overcharged fees. Also, customers would either receive an inferior item, a different cheaper item, or nothing at all.
Therefore, it is advised to file complaints to your bank and request for a new credit (debit) card. On the other hand, if you used Paypal as a method of payment, you should document (screenshot) the transactions for future purposes.
Yes, it is true that online shopping has made life easier, however when ordering things online check out the following-