Do you have puffie eye bags and wrinkles? Do you want to buy Beyond Flawless Second Skin? Are you wondering if Beyond Flawless will tighten and lift the skin around eyes? You are on the right place. Go through this Honest Review to find out if it is genuine or a sham.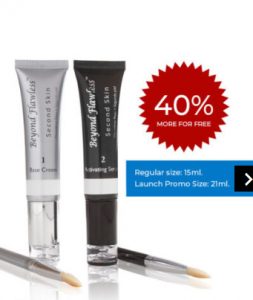 What Is Beyond Flawless All About?
Beyond Flawless "second skin" is a cosmetic that mimics the elasticity and smoothness of an unblemished youthful complexion.  It is for diminish eye puffiness, eye bags, fine lines and wrinkles, give that smooth, youthful look. If you design to wear make-up, you can apply dry, matte makeup powder over it. invisible, undetectable, self-adhesive clinging to the skin without glue. 
Flawless™ Second Skin is a patent-pending, technology breakthrough. It uses a simple two-step process that creates a tight, undetectable bond over natural skin in under five minutes, flattening eyebags while covering wrinkles and blemishes. The resilient, breathable layer is swim, sweat and sleep-proof and lasts for up to 24 hours without residue or flaking. The second skin can be peeled off in one piece.
The science behind this beauty breakthrough utilizes a Nobel Prize winning and game-changing composition of materials including medical-grade graphene, the recent discovery proven to be the thinnest yet strongest material on earth.  Graphene, cross-linking with multiple polymers, create a strong, safe and effective resilience that keeps eyebags and wrinkles at bay all day and all night. 
How To Apply Make Up Over Beyond Flawless:
Apply your skin care products as usual. Then apply foundation/BB/CC cream, eye liners, eye lashes, eye brows, face blushes, lip sticks etc. Avoid the areas that you will apply the under eye second skin.
Use a moist tissue or wipe to clean the under-eye area (according to the instruction) where you will apply the second skin.
Wait until dry.
Start to apply the "first step" cream according to the instruction from the Beyond Flawless™ Second Skin.
Apply the "second step" serum according to the instruction from the Beyond Flawless™ Second Skin.
Wait for about 1 minute, use a dry tissue or napkin to "press dry", don't rub, the left-over serum if any.
If the color matches the rest of the face, you don't need any powder to put onto the under eye "second skin", if the color does not match, then apply a tiny bit of light powder, avoid the edges of the second skin, don't brush.
Does Beyond Flawless Really keeps Eyebags And Wrinkles At Bay?
Yes it does work but not to the extent it is being advertised on the website. Moreover, we found both positive and negative reviews online about the product. It was rated 3.6 on the Tsc.
See what some customers have to say –
So far it's amazing. Just received the product yesterday and used it this morning. I saw a HUGE improvement with bags under my eyes. It was easy to use. I was a little intimidated at first, but found it easy to use. It's been 8 hours so far and my eyes still look great. No irritation, no itchiness, no pulling. My co-workers noticed that something was different about my face, but couldn't figure out what. They said I looked like I had a great nights sleep. LOL

Catherine
Like one of the other people who commented I have never ever returned a beauty product but this product made my eyes look worse. It was like saran wrap under my eyes. It peeled off easily and flaked onto my makeup. I'm glad I didn't pay full price. I'm sending it back. It might work for some people but I definitely would not recommend this product, especially if you wear makeup. You might get better results putting a little egg white under each eye. Very disappointed.

VBShopper
Some Beyond Flawless Features and Benefits:
2 gels combine to form a safe, micro-thin, breathable film that mimics human skin
 Invisible & undetectable.
Contains natural moisturizing ingredients
It is Self-adhesive clinging to the skin without glue
Comfortable to wear
It is water, sweat & temperature proof
It flattens eye bags and wrinkles without surgery.
Some Inconsistencies:
Has some negative reviews online
Outrageously cheap
Conclusion:
Beyond flawless second skin is a is a cosmetic that claims to mimics the elasticity and smoothness of an unblemished youthful complexion. However, there are both positive and negative reviews online about the product. As a result of this, potential buyers should trend with caution and shouldn't have high expectations.
Click here to see other products that we reviewed earlier.