Looking for a way to add color to your kitchen utensils? Do you want to buy Gotham Steel Aqua Blue Pan from aquabluepan.com? Read this review to find out what an insider think about Aqua Blue Pan As Seen On TV.
Our Review serves as an eyeopener. We hope it meets you well, and on time.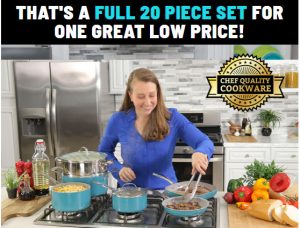 Aqua Blue Pan – Is It Worth It?
One of the reasons why this product is the rave of the internet is because the website (aquabluepan.com) is offering the 20 piece cookware set for four installment payment of $49.99. This is actually a good idea as most people might be reluctant to pay the total amount at a single go.
Once you make the first payment you'd receive a 20 piece cookware set that contains -Gotham Steel Aqua Blue 12-Piece Set, Gotham Steel Steam Insert, Gotham Steel Steam Rack, Gotham Steel Fry Basket and Gotham Steel 5-Piece Bakeware Set.
All without needing to pay for shipping!
Still, the question that begs to be answered is this – "Is the Aqua Blue Pan really an excellent non-stick pan?" "Would the blue color come off at any time?" "Do the lids fit?" "What do real customers have to say about this Aqua blue pan?'
Things You Should Consider Before Buying Aqua Blue Pan
Aqua blue pan is owned by the makers of Gotham Steel, and just like Gotham Steel Cookware you might experience the following difficulties while using the pan;
Food Might Stick To Pan
Few customers have complained about having a tough time scraping food out of the pan. According to these complaints, even with butter or oil, food sticks to the pans. However, the cause could simply be  using too much heat to cook.  You should use lower heat temps. No, it will not slow down cooking time! All Gotham Steel products are created to have even heat distribution.
The Coloring Might Come Off
If one of the reasons why you're thinking of buying the Aqua Blue Pan is because of the catchy turquoise color, you might get disappointed in the long run. See what a customer has to say –
The coloring is beautiful and looks nice at first when using it when you have company. I used the first pan in October here is is the end of December and I am shopping for new cookware. The outside coloring is coming off. ( I don't use any crazy cleaning product or abrasives)

Diana
Shady Return Policy
Though aquabluepan.com promises a 30-Day Money Back Guarantee you might not be able to return your cookware successfully. This is common with stores that offer lots of bonuses. Still, if you're having a difficult time contacting customer support, you should call 855-528-7675 between the hours of 8:00AM – 8:00PM EST.
Is Gotham Steel Aqua Blue Pan Worth Your Money?
The Aqua blue pan by Gotham Steel is not a bad product. Apart from the problems mentioned above, you'd likely have no issues when using the pans. It has more advantages, and very few disadvantages. Still, the 10 year warranty is total BS.
Have you used the Aqua Blue Pan? Is the product worth your money? Do you think it's another fad non-stick pan? Please let us know in the comment section!
Meanwhile, if you are in doubt about any platform- be it trading, shopping, investments, or even product. We are always here to guide you make the proper decision.
All you need to do is go here >>>> Fill The Form