Did you stumble on an ad on Facebook or Youtube about about $5000 Emergency Fund that Americanemergencyfund.com website offers? Are you wondering if it's legit or another scam? Go through this article to find out how it works.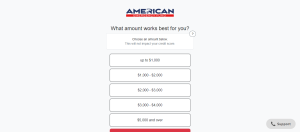 What Is Americanemergencyfund.com All About?
Americanemergencyfund.com is a website that claims to offer up to  $5,000 as an emergency fund to people. Interestingly, you can get the money in a very simple and quick way unlike other loan giving websites. You just have to fill a form. In the form and include your preferred credit type. Then, the lenders will deposit fund to your account as fast as the next working day.
It is mind blowing right? However, the $5000 Emergency Fund that is making waves on social media is not a legit deal. I have made a thorough research about it and found out the website does not live up to its claims. Keep reading to see some red flags associated to the website.
Reasons Why Americanemergencyfund.com Is A Scam
Fake Business Address
The no business address provided on this website as 2480 S Centinela Ave, Los Angeles CA 90064 is fake. The address is a square feet condo home. This indicates that the people behind this the website are hiding its true nature. This is red flag that should not be ignored.
Website Creation
The website was created recently in January 2023 and expires January 2024 this is a sign of an easily disposable website, thus it is suspicious.
The Website Has Zero Customer Support
The website's email address [email protected] is not functional. Moreover, there is no phone number provided. All efforts to contact the customer agent has been futile.
Other Resons Why You should Not Take The $5000 Emergency Fund Serious
There are tons of negative reviews on Americanemergencyfund.com Facebook page
The websites Lending Policy affirms that the website does not make loans or credit decisions. It only submit the information you provide to their lending partners that you know nothing about.
The website is vulnerable to hackers who can tamper with your personal and financial details.
Conclusion:
$5000 Emergency Fund that Americanemergencyfund.com offers is not a legit one. Most people that applied fir the loan where denied. There potential users should check out for other legit fund giving websites.
See similar websites that we have reviewed earlier- Viva Payday Loans, Cup loan