Are you looking for a sexy Bra that gives comfort? Are you considering buying Zen Chic Bra from Gemor.com? Don't do that yet. Go through this Honest Review to find out if it is genuine or a sham.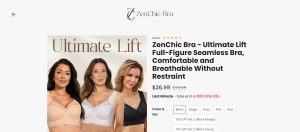 Zen Chic Bra: What is It?
ZenChic Bra is an Ultimate Lift Full-Figure Seamless Bra, Comfortable and Breathable Without Restraint. It is a posture support bra that improves saggy breast with its criss-cros double layered support. No wires digging in and no tight straps putting "dents" in your shoulders. Specially designed for leisure wear and sleeping.
Interestingly, the elasticity and softness of the ribcage band is super nice. The bra is available in different cup sizes.
Is Zen Chic Bra Genuine?
We are still skeptical about the authenticity of this product. Despite the fact that Zen Chic Bra claims to give you comfort and your desired elegance and sexy breast shape, there are no positive reviews online by customers to justify these claims.
Furthermore, the selling website was recently registered on 2022-03-14. This is common with most fraudulent website.
Claims Of Geemor Bra:
Made with fabric that allows better airflow for total comfort and freshness.
available in various sizes
Machine washable
Durable adjustable straps
Sold at zenchicbra.com website
Advantage
Provides seamless fitting and improves posture
Made with breathable fabric
It is hand and machine washable
Available in all sizes.
Disadvantages:
Website selling is a new website
No customers reviews
Conclusion:
From all indications, Zen Chic Bra does not seem genuine and trustworthy. It claims can't be justified as there is no customer's review about the product online. Therefore, we do not recommend it.
Have you heard of Saanvi face cream, we reviewed it earlier.