Are you having skin aging problems? Are you considering buying YoungerMe Collagen Serum? Don't do that yet. Go through this Honest Review to find out if it really works or a sham.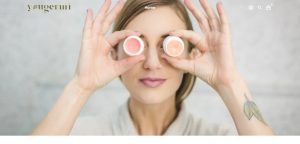 YoungerMe Collagen Boost Anti Aging Serum: What is It?
YoungerMe Collagen Serum is a boost anti aging serum. It claims to be the most effective and freshest skincare product. YoungerMe Serum feels very smooth, not greasy and absorbs quickly. YounerMe Collagen Boost Anti-aging serum is marketed by the brand YoungerMeTM
It works this way – penetrates deep into damaged skin and stimulates the production of new collagen-a protein. This in turn makes skin to appear plump and firm. As a result of this, skin aging problems such as wrinkles, dark spots, forehead wrinkles, dry skin, dull skin, fine lines etc. disappears.
Does YoungerMe Collagen Really Reduce Skin Aging?
We can't really say if it actually works as there are no reviews about the product on other websites. However, the positive reviews on the webpage look too good to be true. When we took a close look at the before and after images, we discovered they are photoshopped images.
How To Use:
Simply apply the serum onto damp, freshly cleansed skin. The hyaluronic acid present in the serum requires the skin to be damp in order to be effective. 
Ingredients
Contains Ceramides an anti aging ingredient that increases skin elasticity and delay slow down skin aging.
Hyaluronic acid that bring moisture.
Advantages
Suitable for all skin types
Non-greasy
Discounts offered on increasing sizes of orders
Disadvantages
No reviews about it on other platforms.
Images were photoshopped
Results might vary
Conclusion:
From all indications, YoungerMe Collagen Boost Anti Ageing Serum looks like a genuine skincare product. However, just like Purime Collagen Mask and Be youth Pro Collagen customers might not be totally satisfied with it.