Did you stumble on Vulosa discount code? Would you really receive the jewelries for free or is it a disguised scam? Read this review to find out!
Vulosa online store which is located at Vulosa.com is selling jewelries like rings, pendants, bracelets, etc. Meanwhile, it has a 100% discount code which customers can use to get all items for free. This offer however does not look real or legit. See the reasons below why you should exercise caution when shopping from Vulosa.com;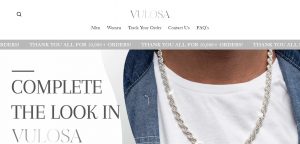 Things You Should Know Before Shopping From Vulosa.com
First of all, there's something suspicious about the website. We noticed the jewelries listed on the site are not unique. In fact, they were gotten from Aliexpress, Alibaba and co. In reality, the jewelries are not really worth $100 or whatever price they put on it. You could get them for $5 – $10.
Secondly, the lack of concrete information on the website is a major red flag. There's no phone number or contact address available on the store. Also, the only means with which customers can reach the store is via the email address '[email protected]'. This doesn't look good at all. Especially as the store is not even available on social media.
Thirdly, the homepage claims they've had 10,000 sales. Meanwhile, according to who.is (a domain checker tool) vulosa.com started operating in March 2022
Is Vulosa.com a Scam?
Vulosa Jewelry is not out rightly a scam, however it operates in such a way that is dubious. The 100% employee discount code is just a sham. The jewelries are not really worth the price put on it. In reality they are worth $5 -$10, which is equivalent to the price you pay for shipping. Meanwhile, the quality of the jewelries are questionable.
Conclusion:
Vulosa.com 100% discount jewelries is just a sales tactic. Customers have to pay exorbitant shipping fees which in reality covers the price of 5 jewelries of the quality. In the end, the offer is not free.
Meanwhile, see similar discount offer that turned out to be a scam.