As usual, Tiktok is agog with another viral product which has seen many views, reviews and comments. It is called Pink Sauce or 'The Pink Sauce', a sauce condiment used with pasta, crunchy meat, etc. The pink sauce comes in a simple bottle and was created by  a celebrity/private chef, Pii.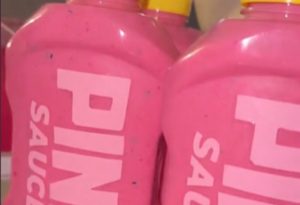 Is The Pink Sauce a Healthy Condiment?
Sadly not, aside from being watery, the bottle says 90 Calories per serving and it's 444 servings total so that means the entire bottle contains 39,960 calories. This is quite unhealthy, what's a lot of calories doing in a small bottle?
On the other hand, when you watch the reactions of those reviewing the pink sauce on tiktok, one thing stands out. Their sound of pleasure or enjoyment comes before they actually taste the sauce. The truth of the matter is that the sauce is not as sweet as you're made to believe. It tastes like sweet ranch, but it's quite spicy.
Ingredients:
Chili
Honey
Garlic
Sunflower seed oil
Dragon Fruit
Conclusion:
The pink sauce is a viral tiktok sauce created by chef pi. It is quite watery, spicy, and contains lots of calories. It looks like an ideal sauce for your chicken wings, pasta, etc. However, just like Swan, there are mixed reactions online about it. As a result of this, buyers shouldn't have high expectations.