Does Soap Cover bar shampoo really remove gray hair? Is It a scam or legit bar shampoo? Read this review to find out what our product analyst has to say about Soap Cover.
Soap Cover is a bar shampoo that removes gray hair after three washes. It does not contain any harmful chemicals such as hair dyes, SLS, Paraben, Phosphate and Sulphur. Soap Cover works this way – accelerates blood circulation rate on the scalp and revitalizes the pigment cells. It targets only the gray hair and eliminates it in 3 washes.
But the main question is this 'Does It really work?' Lets find out!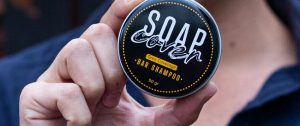 Does Soap Cover Bar Shampoo Really Work?
No, it doesn't really work as claimed. 90% of users have left reviews on Amazon, stating that soap cover does not work. Even after using it for weeks, they noticed no changes. See complaints below –
It's a total scam. Try to call them. It's some punk in his basement in Indonesia that you can't understand and he has dogs barking in the background and it's a horrible staticky connection. He called me back from a +44 number. So unprofessional right from the get-go. Save your money!

John
Another waste of money product. Have used it several times, followed the directions and NOTHING. I'm still gray. There's not even a hint of color or darkening. Why do I keep falling for these scams? Hope they go out of business and loose their shirts in the process.

David Keind
How to Use
Apply Soap Cover on your hair
Apply pressure so it gets foamy, during your shower routines.
Rinse
Use as many times daily
Things You Should Consider Before Buying Soap Cover Bars
First of all, the claims on the website are fake. It isn't endorsed by Glamour and Men's Health. This is just a sales gimmick used to trick people into buying the bar shampoo. In reality, the product is not endorsed by any health magazine, neither is it available on Amazon.
Secondly, the 60 days money back guarantee is fake. You wouldn't be able to get a refund for your unopened bar even though it wasn't up to a month you bought it. This shows the company behind this product is not genuine. They know the bar shampoo doesn't do what they claim it does. Meanwhile, In case were refund is granted, you have to have to pay return shipping which is almost equivalent to the cost of the bar.
Conclusion
Soap cover is a viral scam bar shampoo that does not remove gray hair. Users noticed no changes even after using it for weeks and months. Do not believe the claims! It wouldn't eliminate gray hair in 3 washes.
Have you used Soap Cover? Did it work for you? Please share your review in the comment section!