Searching for Soap Cover Bar Shampoo Reviews? Read this review to find out if Soap Cover bar can really restore your hair natural color or if it is just a hoax.
With online scams springing up every day, we have taken the responsibility of reviewing products, stores, websites e.t.c in order to save you from making wrong decisions.
Our Review of this product serves as an eyeopener. We hope it meets you well, and on time.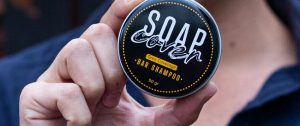 Ingredients:
On the official website of Soap Cover, we're told this product does not contain any harmful chemicals such as hair dyes, SLS, Paraben, Phosphate and Sulphur. However, there's no ingredient list as that shows what the product really contains. Yet, we're made to believe that it is –
Paraben Free
Phosphate Free
Vegan
PH balanced
Sulfate Free
Nut Free
This look like an ideal list of a natural product right? But we can't help but wonder why we're not been shown what this product REALLY contains. If it is indeed Chemical free, what is there to hide?
How to Apply
According to the information on the website 'soapcover.com', You should apply Soap Cover on your hair until it gets foamy, during your shower routines, and as often as daily. Still, the website goes ahead to claim that the product ELIMINATES GRAY HAIR IN 3 WASHES.

Hmmm, quite interesting.
There seem to be some inconsistencies about this product. Those who used this shampoo had these to say about it-
Unproven Results
The claim that Soap Cover bar accelerates blood circulation rate on the scalp and revitalizes the pigment cells is not entirely true, neither is it backed with any proof. Dallas and others who used it, confirmed the product does not help with gray hair removal. But rather it is a good shampoo for cleaning your hair and your scalp, it also has a pleasant smell.
Fake Claims
On the official website of this product, there are badges from Glamour and Men's Health which make it seem like the product was endorsed by the platforms, but this isn't so. Soap Cover isn't listed in Men's Health Grooming list, also not in Glamour. Meanwhile, the product is not available on Amazon. So the claims of it being an Amazon bestseller is totally false.
Should you Buy Soap Cover Bar Shampoo?
We don't think it is an ideal product for gray hair removal as there are some inconsistencies yet to be cleared by the manufacturers. Still, for a hair shampoo it's not that bad as it is quite solid and have a pleasant smell. Meanwhile, please share your experiences with the Soap Cover. Did you notice any change?