Looking to buy SkinnyFit products to either lose weight, reduce inflammation or prevent signs of aging? This product has recently gained popularity in the market for its claimed benefits. Does it work? Read this review first before enrolling.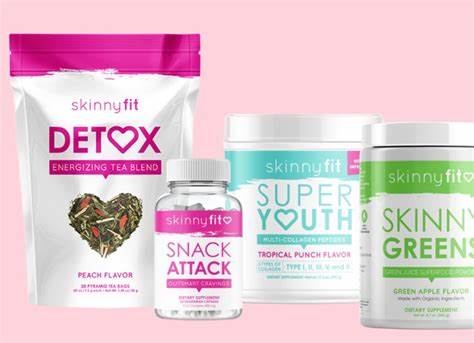 Overview Of SkinnyFit
Skinnyfit.com is a company that sells products like detox tea, gummies workout supplements etc. They that their Skinny Greens product has ingredients to reduce inflammation and protect against aging and disease. They also say it can help with weight loss by boosting metabolism.
The main ingredient is green tea extract, which might help with weight loss, but we're not sure how much you need.
It has a bit of caffeine from matcha and green tea, but not as much as coffee.
The product contains various blends of superfoods, probiotics, mood-boosting stuff, and slimming greens like spinach and wheatgrass.
Is SkinnyFit Best For Weight Loss? My Before And After Experience Using SkinnyFit Gummies
So, I stumbled upon the SkinnyFit Weight Loss Gummies and the Youth Collagen peptide on Amazon, and I thought, "Why not give it a shot?" It arrived surprisingly fast, just 5 days later, and I eagerly unboxed it.
But right off the bat, I gotta say, I'm not a fan of the flavor. It's like pepto bismol mixed with that pink medicine I used to take as a kid – not exactly a taste sensation.
Now, when it comes to the whole collagen thing, here's the deal: our bodies don't really absorb collagen in the way you might hope. Collagen is a big protein, and our stomach acid breaks it down into amino acids. So, I'm not expecting miracles from this product.
But, on the bright side, I do like that it's a complete collagen product, and I can sip my protein instead of forcing down something when I'm not too hungry. Plus, it's got vitamin C and hyaluronic acid, both important for collagen production. I mix it with water and matcha tea, and yeah, it turns into this weird muddy green color, but it tastes surprisingly good. So, I'm on my second purchase.
Now, about the weight loss claims – I haven't noticed any changes in my appetite or weight. And let's talk about the price, shall we? These collagen products are pretty pricey for what they are, especially considering the shaky science behind some of the marketing claims. But hey, I'm sticking with it for now.
Pros:
I ordered it on Amazon, and it arrived in just 5 days.
It's a complete collagen product, and I can easily drink my protein.
The flavor (tropical punch) is quite enjoyable.
It contains protein, vitamin C, and hyaluronic acid, which are important for collagen production.
Cons:
The taste reminds me of pepto bismol and childhood medicine, not great.
Collagen doesn't get absorbed by the body as a whole molecule, so I'm not expecting any miracles.
I haven't seen any noticeable changes in my appetite or weight.
These collagen products tend to be quite pricey for what they offer, and some of the claims can be a bit shaky.
Where To Buy
You can buy from Amazon and also from their official website skinnyfit.com.
If you buy SkinnyFit's Skinny Greens once, it costs about $3.00 per serving.
But, if you subscribe monthly, it's about $1.80 per serving due to a 40% discount.
Return Policy
You can get your money back from SkinnyFit within 90 days if you don't like their product. But shipping is free only the first time, and it costs more if you buy more things. You can reach out to their customer service at [email protected].
Is SkinnyFit Legit?
Yes it is legit. SkinnyFit sells various products like workout supplements, teas, and gummies, claiming they can help with weight loss, more energy, better sleep, digestion, and looking youthful. Many of their claims lack strong scientific evidence and have not been approved by FDA. Despite this there have been a lot of customer complaints, A customer report said
This is a waste of money. Did not help me loose weight at all. I would recommend going to walmart and getting the Collagen from the backing section. It will work even better for more than half the price! Will not buy again. 100 Dollars down the drain and it tasted awful

Mary
Though SkinnyFit products might help, they're not a pop replacement for eating well and staying active. The best alternative to stay healthy is by focusing on whole, nutritious foods and regular exercise.
Conclusion
In conclusion, while SkinnyFit products may have their merits, they shouldn't be seen as a sole solution. I tried the Weight loss gummies and like Bioma, it's not a miracle weight loss worker. But ask a doctor before trying any new supplements to be safe.
FAQs
What is Super Youth Collagen?
Super Youth Collagen is a SkinnyFit product. It helps with skin, hair, nails, and joints.
2. Do collagen supplements help with weight loss?
No, collagen supplements like Super Youth Collagen are just for your skin and joint health, not weight loss.
3. Which SkinnyFit product is good for weight loss?
SkinnyFit has products like Detox Tea, but remember, they will not help you lose weight. It takes a balanced diet and exercise.
4. How do I contact SkinnyFit customer service?
You can find SkinnyFit's customer service info on their website for help with any questions or concerns.