Do you want to buy Geemor bra from geemor.com? are you wondering if it's going to be worth the price? Read this review to find out what our product analyst has to say about Geemor bras.
About Geemor Bra
It is a variety of bras that provide support for women. There's the low back wireless lifting bra, the supportive bandeau bra, the women front closure comfort bra, the oversized lacy bra, etc. Currently, the best selling of them all is the Geemor™ soft and comfortable bra which is sold for the promo offer of buy 1 and get 3, just for $39.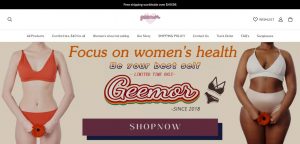 Things You Should Know Before Buying Geemor Bra
Product Quality
Geemor.com claims its warehouse is in New York, and it's a USA based business. However, it has failed to mention the address. Meanwhile, who.is ( a domain checker) shows the website was registered privately which is quite suspicious. In most cases, businesses registered privately are based in China. There's a possibility that Geemor bra store is located in China.
Might Not Work as Advertised
Geemor bra is advertised as a supportive bra, but this might not be the truth. Especially as the bras themselves are not unique. This was exactly the case with Semibra, a bra that was sold with similar claims. When customers finally received they were totally dissatisfied with it.
BUYER BEWARE!! I measured & ordered the recommended size which was WAY too small. I initiated a return, which they refused. The bra is flimsy & unsupportive.

JB
Delayed Shipping and Delivery
Prolonged delivery of order is another major complaint. In fact, 80% of Costumers would have to wait for almost a month after placing their order before it finally arrives. This is common with new product, as there'd be a long waitlist of orders.
Pros
Available in all sizes.
Hand and machine washable
Cons
manufactured in China
Accepts no customer reviews
The website was recently registered
Conclusion:
Geemor Bra is a supportive bra that is sold for discount prices. However, it's manufactured in China, so there's a possibility of it having poor quality. Buyers shouldn't have very high expectations when ordering this product.