Do you care about the health of your Teeth and gums? Do you want to buy ProDentim? Are you wondering if it really works? You are on the right place. Go through this Honest Review to find out if it is genuine or a sham.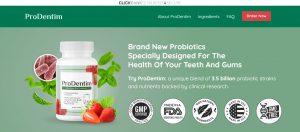 What is ProDentim all about?
ProDentim is a brand new probiotics specially designed for the health of your teeth and gums. The ProDentim supplement's principal purpose is to help you maintain the health of both your teeth and gums.  It is a unique blend of 3.5 billion probiotic strains and nutrients backed by clinical research specially designed to to repopulate your mouth with good bacteria and support the good health of your gums and teeth.
It assists in mitigating the adverse effects of toxins and promotes the development of a robust microbiota in the oral cavity. 
Futhermore, it is a supplement specifically manufactured to help promote the oral hygiene, prevent various gum diseases, maintain a high population of good bacteria in your mouth and keep your mouth and in extension the rest of your body healthy.
How It Works:
According to a Harvard scientist, swallowing these newly discovered bacteria is all you need to do to fix all your dental issues, from gum bleeding and teeth rotting to bad breath and cavities. These amazingly efficient bacteria work by reconstructing your enamel (the outer layer of your teeth) Making them 20x stronger than a normal tooth.
Like a titanium shield against cavities, root infection and enamel erosion. Some say their teeth are now stronger than a dental implant. ProDentim not only increase the good bacteria in your mouth but also helps in the reconstruction of your teeth.
Does ProDentim Really Supports Your Teeth And Gums?
We are still skeptical about the authenticity of this product as there is no customers reviews on other website about it. However, the selling website Prodentim.com was recently registered on January 2022. This is dubious as most fraudulent websites use new domain names.
Advantage
Supports the health of your gums
It helps your sinuses stay free and open
Helps with inflammation
Enables a healthy mouth environment
Supports the balance of mouth bacteria
Supports respiratory tract
Maintains a healthy immune system
Disadvantages:
 No customers reviews on other platforms.
Website selling is a new website.
Conclusion:
Prodentim claims to maintain the health of both teeth and gum. However, there is no customers reviews on other websites to confirm the authenticity. As a result of this, potential buyers shouldn't have high expectations.
Have you heard of Saanvi face cream, we reviewed it earlier.