Have you heard about the Porsche Gasoline Settlement? Did you receive an email about a class action settlement against Porsche and Volkswagen dealership? Are you wondering if porschegasolinesettlementusa.com is real or fake? Read this to find out everything you need to know!
Porsche Gasoline Settlement: What Is It All About?
It is a 2022 class action settlement against Porsche for marketing its gasoline sports cars with misleading fuel economy ratings. The lawsuit claimed Porsche manipulated the test results of its Sport+ vehicles to appear like these vehicles passed emissions tests. However, in reality, the vehicles were allegedly "emitting more pollution and obtaining worse fuel economy than advertised.
Earlier this week, Porsche agreed to the class action lawsuit settlement which is worth at least $80 million, though they didn't admit to any wrongdoing.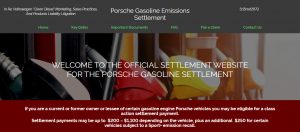 How Much Will Class Action Members Get From The Porsche Settlement?
Like every class action lawsuit the bulk of the money would go to the attorneys. Meanwhile, how much class members receive each depends on their vehicle model. Those whose vehicles require a Monroney label change can receive up to $1,109.66, while those whose vehicles do not require a Monroney label change can collect a flat payment of $200. This is because the payments are based on calculated fuel economy differences, a gasoline rate of $3.97 per gallon, and a 15% goodwill payment.
How to Find out if you're in the Settlement Class
You're eligible for the settlement if you are a former or current owner or lessee of of certain Porsche Sport+ gasoline vehicles as of June 29, 2022. A full list of included vehicles can be found on the settlement website here
How To Submit Claim:
If you're eligible for the payout, you should submit your claim here. The federal court has granted preliminary approval of this Settlement.
Meanwhile see other class action settlement here You can also check if you're eligible for Bcbs settlement here