Thinking of ordering sunglasses from Plushframes.com? Would you really receive this sunglasses for free? or is it a disguised scam? Read this review to find out!
Plush online store which is located at plushframes.com is selling sunglasses for $0. The website urges customers to get any 3 pair of sunglasses for free in the next 24 hours. This offer however does not look real or legit. See the reasons below why you should exercise caution when shopping from plushframes.com;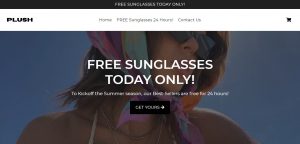 Things You Should Know Before Shopping From Plushframes.com
First of all, there's something suspicious about the website. The About US details claims the brand was set up in 2018 but this is actually false. According to who.is (a domain checker tool) plushrames.com started operating in 30th April 2022.
Secondly, the lack of concrete information on the website is a major red flag. There's no phone number or contact address available on the store. Also, the only means with which customers can reach the store is via the email address '[email protected]'. This doesn't look good at all. Especially as the store is not even available on social media.
Is Plushframes.com a Scam?
Plushframes com is not out rightly a scam, however it operates in such a way that is dubious. The sunglasses are not really free, in reality you'd be made to pay exorbitant shipping fees. The cost of shipping actually covers the price of the sunglasses, so in the end customers are paying for the allegedly 'free' glasses. Meanwhile, the quality of the sunglasses are questionable.
Conclusion:
Plushframes.com sunglasses is not free as claimed. Customers have to pay exorbitant shipping fees which in reality covers the price of 5 sunglasses of the quality. The 'free offer' is a sales tactic often used by some businesses. It is used to increase sales and create brand awareness. In the end, the offer is not free.