If you you received an Instagram message from Pawtly wanting you to be their brand ambassador, read this review to know what you should do.
If you've been contacted by Pawtly for an Instagram collab you might be considering giving the online store a try. What harm could there be? Who doesn't like free products? Well, sorry to kill your joy, Influencer Scam is one of the fast rising internet scams.
Could pawtly.com be one of such fraudulent stores? Lets find out!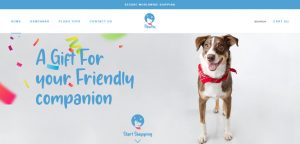 What is Pawtly?
Pawtly located at pawtly.com is the brand name of an online pet store that sells pet Bandana and plush toys. Sadly, aside the glitz and glamour, something fishy is happening.
This pet store contacts lots of small Instagram influencers, offering to make them their brand ambassador. These ambassadors are  promised free product in exchange of filming videos & taking pictures of their dog in the product. Sadly, this offer is far from being genuine.
The Truth About Pawtly
Pawtly is an ongoing Instagram influencer scam. It is an untrustworthy online store that tells you they want you to work with them. But When you pay for the clothes YOU WOULDN'T RECEIVE ANY!
It shares same features with Pawbless an Instagram brand that also scammed unsuspecting shoppers. This is how it works –
On Instagram they send you message about wanting you to work with them. According to the message, as a team you get sent free packages.
You order clothes from the store but You're made to PAY FOR THEM!
You don't receive tracking Info (First Redflag)
When you try to reach the store, they wouldn't respond to your mail.
This could be quite frustrating to those affected.
Have you been scammed By This Store?- Get Your Money Back Now!
Shopping from this store might you to the risk of hacked credit card and overcharged fees. Also, you could receive an inferior item, a different cheaper item, or nothing at all.
Therefore it is advised to file complaints to your bank and request for a new credit (debit) card if you experienced such. On the other hand, if you used Paypal as a method of payment, you should document (screenshot) the transactions for future purposes.
It is true that online shopping has made life easier, however when ordering things online check out the following-
How old is the website? Does it provide return address? Are there customer reviews online? Do the social media icons work?
See similar stores we've reviewed here- Blaroken, Bawsk, ShikoBike, Campeqpcc, TeesLion, TeesVibe, e.t.c