Do you want to buy Ortho Sparkle toothbrush? Are you wondering if it is better than the regular toothbrush? Does It really get rid of plaque, stains or bacteria? Here's a consumer report,
In this review I share my experience using Orthosparkle toothbrush, its pros, cons, and everything you should expect when you buy this mouthpiece toothbrush.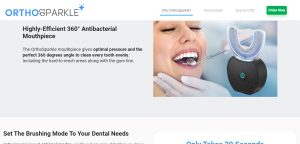 Overview of Ortho Sparkle Toothbrush
Orthosparkle toothbrush is an electronic U shape toothbrush that allegedly automatically cleans your teeth for you in just 30 seconds. This toothbrush falls under the category of mouthpiece toothbrushes, which are becoming the rave of the internet.
How To Use
Apply toothpaste to both sides of the mouthpiece
Place the Orthosparkle toothbrush into your mouth
Move gently, side to side, back to front, up and down.
Remove after 30 seconds
Should be used twice daily
Sounds pretty simple right? Sadly, this product has some drawbacks.
I Tried Ortho Sparkle Toothbrush: Here's What Happened To My Teeth
Through the years I've damaged my gums through brushing to hard with my smokers toothbrush. Before I bought the Orthosparkle toothbrush, all I do after eating is rinse my mouth with toothpaste. With Orthosparkle, my dental care has become better. Now, I can confidently speak in public without fear of halitosis.
First of all, placing the toothbrush in my mouth has a bit of the same feel as getting an X-ray at the dentist — it seems quite awkward at first. However, the soft bristles and complete fit around my teeth meant it became more comfortable as I got used to it.
I like that this mouthpiece toothbrush does not require much manual effort. I only need to apply toothpaste on the bristles, place the brush inside my mouth, and allow it do it work, while I move it side by side. After each use, my teeth do feel cleaner, better than when I just used only toothpaste.
However, I honestly don't think it's a substitute for brushing. I didn't get that feeling of cleanliness and fresh breath I get from using regular toothbrush. So, I do think you shouldn't replace it with your normal manual toothbrush. The Orthosparkle toothbrush was not intense enough to accomplish a deep clean. Though it seemed like it reached all the spots on my teeth, there wasn't a strong movement, as the bristles themselves don't move.
Orthosparkle Pros: What I Love About This U-Shaped Toothbrush
It's better than normal flossing or rinsing with toothpaste
It doesn't require much efforts
It is a good option if you've damaged gums
Ortho Sparkle Automatic Toothbrush Cons:
It is not better than regular manual toothbrush
I didn't have that feeling of fresh breath and cleanliness after use
Do Dentists Approve of This Mouthpiece Toothbrush?
No, dentists don't approve of mouthpiece or U-shaped toothbrush. It's said that these automatic toothbrush don't do intense cleaning and cannot really get rid of bacteria, plague or tartar.
Orthosparkle automatic toothbrush doesn't ensure better dental hygiene. One of the problems of this kind of toothbrush is that they don't reach the gum line. The gum line is the most important area to brush. Verified dentists have clearly stated that the health of your teeth and gums is AT RISK if you use mouthpiece toothbrush in place of a regular toothbrush.
Final Thoughts
Ortho Sparkle toothbrush is not a scam or a hoax perse. However, it does not effectively clean the teeth. For better use, it should be used with regular toothbrush, and not a substitute for regular brushing. As a person with damaged gums, OrthoSparkle toothbrush worked for me, as it doesn't reach the gum line.
Still tempted? watch the Dentist review below
Did you buy this mouthpiece style toothbrush? Does it meet your expectations? Did it stop working after a while?
Please share your experiences in the comment section.
Disclaimer: The views expressed in this article are presented as an opinion based on available information. This review is intended for information only and should not be relied on when making financial or business decisions. There is no malicious intent or attempt to defame any individual/s or organization/s. If you are a website owner and would like to provide clarifications regarding your business and/or website, please get in touch using the Contact Form.