Do you want to buy Orthosparkle toothbrush? Are you wondering if it is a safe remedy for plaque, stains or bacteria? Should proceed with caution? Kindly read this honest & detailed review before placing your order for OrthoSparkle automatic toothbrush.
With online scams springing up every day, we have taken the responsibility of reviewing products, stores, websites e.t.c in order to save you from making wrong decisions.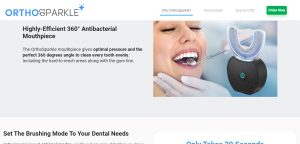 Orthosparkle Teeth Whitening Toothbrush – How Does It Work?
Orthosparkle toothbrush is an electronic U shape toothbrush that allegedly automatically cleans your teeth for you in just 30 seconds. This toothbrush falls under the category of mouthpiece toothbrushes, which are becoming the rave of the internet.
However, aside the glowing Advertisement and promotional articles online, there is more to what meets the eyes.
The Manufacturers of this toothbrush have made so many claims which we'll be looking into. But first of all, this is how to use this automatic toothbrush;
Recharge with USB
Place the Orthosparkle toothbrush into your mouth
Move gently, side to side, back to front, up and down.
Remove after 30 seconds
Should be used twice daily
Sounds pretty simple right? Sadly, this product has some drawbacks.
Is It Clinically Tested or Approved By Dentists?
Sadly not. The Ortho Sparkle Toothbrush has not undergone any clinical testing. Though they claim they've been Approved and recommended by dentist, it is absolutely false.
To date, only 1 mouthpiece toothbrush has undergone clinical testing and that is V-White. The results were far from positive.
No other mouthpiece style brush has gone through rigorous clinical testing.
Though this brand suggest they have worked with dental professionals to develop their automatic toothbrush to ensure they perform effectively.  They have not been given the seal of approval by verified in-house dentists.
What You Need To Know Before Buying & Using OrthoSparkle Toothbrush:
First of all, Orthosparkle automatic toothbrush doesn't ensure better dental hygiene. One of the problems of this kind of toothbrush is that they don't reach the gum line. The gum line is the most important area to brush. Verified dentists have clearly stated that the health of your teeth and gums is AT RISK if you use this product in place of a regular toothbrush.
Their findings are supported by the results of the first clinical study into the efficacy of U-Shaped Automatic Electric Toothbrush (UAET). The University of Florence, concludes that Electric/Automatic toothbrush are not significantly different from no brushing. Mouthpiece Toothbrushes like this one are not effective in removing dental plaque.
Secondly, OrthoSparkle has just one design. How can it accommodate  all the different sized mouths with just 1 silicone mouthpiece? There ought to be various sizes.
Thirdly, the glowing testimonials reviews online have all been doctored, especially the ones in the official websites. A close look at the images showed it was that of another similar product '360 Ultrasonic Toothbrush' which has already been debunked by verified dentists.
This further proves that this is not a spectacular product. If they're using the images and reviews that are not theirs, what does it tell you?
Is The Orthosparkle Toothbrush a Scam?
It seems so. Dentists have debunked this automatic toothbrush because it is not as promising as the promotional videos suggest. You could be putting your oral health at risk if you buy and use this product.
Still tempted? watch the Dentist review below
Did you buy this mouthpiece style toothbrush? Does it meet your expectations? Did it stop working after a while?
Please share your experiences in the comment section.
Disclaimer: The views expressed in this article are presented as an opinion based on available information. This review is intended for information only and should not be relied on when making financial or business decisions. There is no malicious intent or attempt to defame any individual/s or organization/s. If you are a website owner and would like to provide clarifications regarding your business and/or website, please get in touch using the Contact Form.
Author Profile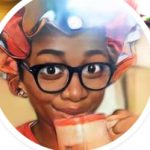 Wendy is a fraud fighter whose contents mainly target online scams. Her investigations have appeared on Itisreviewed,and elsewhere. She spends her free time reading novels, binging on Netflix, and listening to hip-hop.