Did you stumble on a YouTube ad or social media sponsored post about Alexandra, a child with cancer who needs your financial help? Are you thinking of making a donation? Don't do so yet! A lot of things don't add up about Netiv Halev organization. Read this detailed to find out everything you need to know about the charity organization.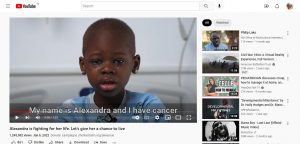 What Is Netiv Halev?
It is allegedly a charity organization that fights for the cause of children. The organization operates with different websites – give.netiv-halev.com, donate.nativlavev.org, europe.n-halev.org, etc. When you visit the websites, there are a lot of sob stories that pull at your heart. However, findings show that the stories are not real.
Is Netiv Halev Scam Charity Organization?
During our investigations we discovered that Netiv Halev is not a genuine or legit organization. First of all, it has the same backend and similar numbers as Chen Lahaim (a popular charity scam). Chen Lahaim and Netiv Halev both ran donation campaigns for Alexandra and the exact same videos of Alexandra were released 5 months ago on the Chen Lahaim Youtube channel
Secondly, Alexandra" is not real, same with "Mohammed" "Linoy" "Marcel" and the dozen other kids that allegedly have cancer. They all allegedly need half a million for medial treatments, which is not only unrealistic (especially in third-world countries) but also based off the same template with roughly the same numbers.
Thirdly, they say they are based in Brooklyn, but their business address is a small residential building, not an NGO office. When we made further enquiries we were told there's no such NGO located within or around the vicinity. Meanwhile, their email is a collection of numbers at gmail.com, surely an NGO would not be using gmail let alone an email comprised of only numbers.
On the other hand, their domain websites is less than one year and their YouTube pages disabled the comments. This clearly proves that the organization is not transparent.
Can Netiv Halev be Sued for Charity Scam?
Sadly not. The people behind the so called organization have covered their tracks cleverly. When you go to donate you'll find tiny legalese saying the money isn't going to the person you think it is but is going toward "good causes". This smartly exonerates the people behind the platform.
Conclusion:
Netiv Halev is a viral scam charity organization that uses paid kid actors, emotional stories, and quality video to appeal to the public for fund. Don't be deceived!
Have you made a donation already? please share your experience in the comment section. You can also join the Reddit thread here.