Fruust.com is a scam website linked to many unauthorized charges on credit cards. Lots of people have complained that it pops up when scanning a QR code for parking payments, app downloads, Medical Bills, etc. Once users scan the QR code and submit their credit card details for the scan which is said to be free, they get charged immediately and subsequently.
If you've fallen victim to this scam, DON'T PANIC! We've provided a guide on how to unsubscribe from Fruust.com and stop future charges.
How Does The Fruust.com Scam Work? – Reviews & Complaints
I registered a product code with worksharper, Fruust.com came up when i scanned the image. In order to validate the warranty, a credit card number is required. I immediately contacted worksharper's business office. They said they would follow up with it. If their product is made in China, that is probably where the QR code on the back of the warranty card was inserted at the manufacturing plant.

Big D
I parked in a public parking lot and had to register with a QR code and Fruust popped up and I missed it was not the company running the garage. Had already submitted my CC information and tried looking at the site later on and it is blank. I have informed the parking management company and my bank. Will look for a charge to show up.

Dave
Was trying to register a gift card. Fruust.com came up over and over. I thought it was part of the registration because it wouldnt let me do anything else until I put in my information. As soon as I realized what it was doing I tried to go back and cancel. Cant even get in the site. A complete scam. I would like it canceled immediately.

Joe
How To Stop Fruust.com Scam Charge on Credit Card
Unsubscribing from Fruust.com using its customer support '+448081756506 ' does not really work. The best way to totally stop the scam is by ;
Contacting your credit card provider or bank and report the charges as unauthorized
Request for a card replacement
With a new credit card, the chances of being charged again is very slim.
The Fruust com Scam Format
Fruust.com promotes itself as a website to get unlimited access to movies, music, games, audiobooks, etc. However, behind the well designed website is a subscription based scam.
Fake Free Trial Offer
The truth is that though the website claims to offer free five days of free access to a multitude of online content, including sports, movies, music, games, and audiobooks, it charges users notwithstanding the free trial offer.
Manipulates QR Code Scanner on Reputable Websites
Then scam also manipulates reputable mainstream websites. It pops up on dental office patient portals, doctor connection sites, restaurant QR code menus, parking apps, scooter rental apps, etc. as an Ad. The free entertainment trial lures people, and they end up clicking and providing their personal information.
Automatically Charges Users & Refuse Cancellation
fruust.com unauthorizedly bills users monthly, sometimes as high as $49 or as low as $1. When victims attempt to contact the customer support for cancellation, they get no response. The charge continues to appear on their credit even after unsubscribing.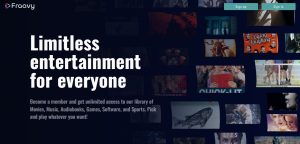 How To Avoid Being A Victim of This Scam
Avoid clicking on any ads or pop-up offers associated with Fraavy.com
Be wary when you see an offer that seems too good to be true, such as unlimited free entertainment.
If you find yourself on Fraavy site after clicking an ad, carefully read ALL the fine print before entering any personal or financial details.
Use a virtual credit card number or privacy.com and set a strict monthly limit
Monitor your bank statement for any unusual charges
Meanwhile, always report unauthorized transactions to your card holder immediately. You may get money returned IF you report immediately. See similar unauthorized debit charge here