Have you received an email which says 'Congratulation! You've been selected to receive a Free Samsung S21 from Apple'? If yes, you're not alone. Since September 2022, hundreds of people have reported receiving similar email, which promises a Samsung S21 or Galaxy after completion of survey.
I received same email last week, and I decided to play along to know what the guys behind the email are up to, and how they intend to gift me this super cooler. First of all, the email didn't come from the official Apple email Dicks sporting goods address which ends is  [email protected]. It was from an odd looking address which itself was a redflag. See the email below –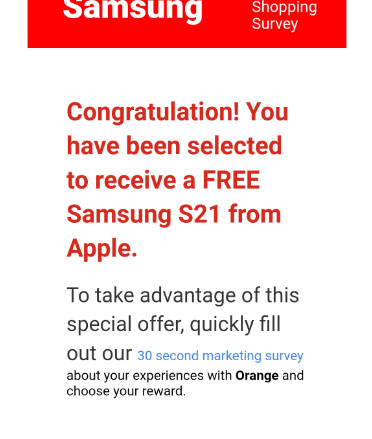 My Derma Dream Microsculpt Reviews ...
The email contained a link in red which I was told to click on. However, when I did so, instead of a 30 second marketing survey as stated, the questionnaire took minutes long, and then it says free shipping. 
This is where the scam comes in.
When I completed the survey, I was told to pay a shipping fee of $4.96. This was quite surprising as moments ago I was told 'Free shipping'. However, I was not surprised.  The saying 'if it is too good to be true it certainly isn't true' is a favorite mantra of mine. First of all, Apple has no business with android phones.
So what happens when you pay the shipping fee?
When you provide your credit card information, these scammers will delete every dime you have in your bank account. This is because they're not the legit Apple company, and they don't have any free gift for you.
Meanwhile visiting the link attached to the text, can also expose your phone to malware.
Why It's a Scam
The email doesn't come from an official email address
It uses tinyurl.5ru, a known problematic link shortener which often directs to malicious websites
There are complaints on Reddit and Youtube about this exact email. See video below –
Meanwhile, if you've already clicked on the link you should Install an anti-phishing software. This will scan your device and protect it from any virus attack.
What Should You Do If You Receive Phishing Texts Like This
No matter how convincing it sounds, you shouldn't visit the link or links attached to such messages/mails or send your personal information.
The first thing you should do is ignore such messages, and look for reviews online about it.
See similar Giveaway scams – Amazon Package Loyalty Reward, UKPepsi Lottery Scam, Eyeverify, Bath$Body Coupon, Amazon Airpods Raffle Scam, and many more.
Author Profile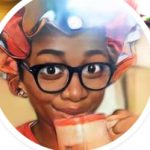 Wendy is a fraud fighter whose contents mainly target online scams. Her investigations have appeared on Itisreviewed,and elsewhere. She spends her free time reading novels, binging on Netflix, and listening to hip-hop.