Thinking of ordering leather shoes from dockleather.com? Would you really receive quality leather shoes? or is it a disguised scam? Read this review to find out!
DockLeather online store which is located at dockleather.com is selling leather shoes for men and women. The website urges customers to shop from their store as they offer free shipping and 30 days return policy. However, a close look at the store shows it's not genuine. See the reasons below why you should exercise caution when shopping from dockleather.com;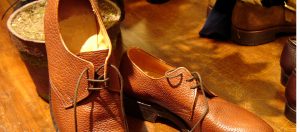 Things You Should Know Before Shopping From Dockleather.com
First of all, the address on the contact us page is fake. The building located at 308 North Maple Drive, Beverly Hills, California, 90210, United States of America is a single family home. When we reached out to the residents, we were told they have nothing to do with the store. In fact, in the past week they've been receiving threatening mails from customers who had shopped from dockleather.com.
Secondly, the phone number provided on the store is not available for calls. If you try calling '+1 ( 805 ) 322-0386' you'd get an unable to connect tone. The only means with which customers can reach the store is via the email address '[email protected]'. This doesn't look good at all. Especially as the store is not even available on social media.
Thirdly, although dockleather.com was registered on November 2021, the store only started operating in April 2022. In fact, the main reasons it started functioning then was because of Easter sales. Right now, there are no customer reviews as customers are yet to receive their order due to long shipping and delivery. This clearly shows that the store lacks credibility.
Is Dockleather.com a Scam?
Dockleather com is not a genuine online store. Most of the information provided by the store is false. For example, it is not located in United States of America, but in China. As a result of this, shipping and delivery takes longer than expected. Meanwhile, the store engages in bait and switch scam. It advertises pictures of shoes from the internet but sends customers cheap imitation. Inferior knockoff that don't look or feel like leather. This is typical with online stores located in China.
On the other hand, the 30 days return policy is not favorable to customers. If you're not satisfied with your purchase and request for refund, you'd be made to bear the shipping cost back to China. At the end of the day you're stuck with a shoe you don't like, as in most case the shipping fee is almost equivalent to the amount you paid for the shoe.
Conclusion:
Dockleather.com is not a legit shoes store. It claims to be located in United States but is really operating from China. This store engages in bait and switch scam. What you ordered is far different from what you'll receive. Meanwhile, you might be unfortunate and not receive anything; no shoes, no money. Save yourself the stress by avoiding Dockleather!