Do you want to buy Cool Bean bag from Mycoolbean.com? Don't do so yet! This review exposes reasons why COOL BEAN LARGE COMFY SACK for $49 is not a legit offer.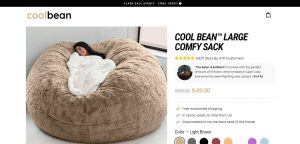 What is Cool Bean Bag?
Cool Bean bag also known as My Cool Bean bag is a large bean bag from mycoolbean.com that serves as a bed or a chair. It allegedly helps you Stay comfy during late summer nights and warm on cold winter nights.  It also supports your body through pressure absorption and maintains ideal shape.
However, we noticed the following drawbacks about the product and the website offering it –
Things You Should Know Before Buying Cool Bean Bag From Mycoolbean.com!
Too Good To Be True Prices
This store uses it low price as a bait to make you shop from them. It is impossible to buy a comfy sack of that size for $49. Do you know the price of National shipping on an item of this size as well as the wool material used?
Fake Company Address!
The Telephone number and address listed on the website are not real. The address belongs to a single family home. Meanwhile, the address 61 E Pointe Fairport, New York(NY), 14450 is been used by a fraudulent bean bag store 'Bulky Bean'. On the other hand, the telephone number ' 1 (877) 832-6351' is not reachable. This proves that the store is not genuine.
Suspicious Nature
MycoolBean was formerly called Bulky Bean and then LazyBean. It shares same website design, address, telephone number and contents. Online reviews indicate that the product was never delivered. After duping lots of buyers, the people behind the website changed its name to Cool Bean. You can see reviews here
Shady Refund Policy
mycoolbean.com return policy is just a sham. In reality, there's no way to contact the store for refund. The 30-days money back guarantee is false! The only way you can get your money back is by filling a complaint with your bank.
Reviews
The customer reviews on mycoolbean.com are not real. Reverse image search showed the same review and pictures have been used by similar blacklisted online store.
Meanwhile, real customer reviews online indicate that the jumbo sized bean bag 81×81 inches from mycoolbean.com is a scam website. According to the reviews, payments were taken but the bean bag was never delivered. See what a customer has to say below –
I ordered on 3/25/22 and have not heard anything on my order. They took the money out of my bank, I called the customer service number and as stated above you can not get anywhere, it rings then goes to a busy signal then hangs up on you. I should have known better, but fell for it, I will be reaching out to my bank. (also side note not sure if its related or not but since I have ordered, I have been receiving all kinds of spam/I owe money calls). DO NOT ORDER from this site

Serina
Conclusion:
From all indications, mycoolbean.com is a viral scam store selling cool bean bags. It lures customers with cheap price and free shipping, but fails to deliver item after payment has been made.
Have you been scammed?- Do This
Shopping from this store exposes customers to the risk of hacked credit card and overcharged fees. Also, customers would either receive an inferior item, a different cheaper item, or nothing at all.
Therefore, it is advised to file complaints to your bank and request for a new credit (debit) card. On the other hand, if you used Paypal as a method of payment, you should document (screenshot) the transactions for future purposes.
Yes, it is true that online shopping has made life easier, however when ordering things online check out the following-
How old is the website? Does it provide return address? Are there customer reviews online? Do the social media icons work?
Always remember you can get the items from trusted sellers on Amazon, like the ones provided above. One of the advantages of shopping from amazon is the return policy. If you are not happy with your order, you can always return your items and get your money back.